Running a successful small business is no small feat. To ensure growth, several factors are essential, such as marketing, salesmanship, customer service, shipping and logistics, and financial and accounting acumen.
Accounting is one of those functions that almost 60% of business owners admit needing to be more knowledgeable about. Due to budget constraints, small business owners often find it difficult to hire an accountant or an accounting firm. So, the burden falls on their shoulders to track finances and expenses and prepare for tax filing– leading most to look for accounting software.
Around 64.4% of small business owners have been making use of accounting software in their company. However, with so many options available in the market, choosing reliable accounting software is a tough venture to take on.
Hence, to help you find a suitable option for your needs, we have compiled a list of the best accounting software for small business.
Before that let's discuss about the accounting software:
Accounting software is an invaluable resource for small business owners that assists with reporting and recording the company's financial transactions. It is often a computer program, cloud-based in today's time, that tracks accounts payable and receivable, provides a clear understanding of profit and loss, and majorly helps in the tax filing season.
Most of the accounting software for small business also includes features such as revenue management, expense management, sub-ledger accounting, and invoicing. This software further provides features such as automation and integration that gives the owner an advantage when managing a business's daily tasks.
Let's be honest small businesses are already walking on a thin line, and making a mistake is something they cannot afford. So, when you can afford an efficient, time-saving software that further ensures fewer mistakes than manual processing, why not bring it on board?
On that note, let's not waste time and discuss the best accounting software for small business out there!
Top 5 Accounting Software for Small Businesses
Here are our picks for the top accounting software for small business that is best suited for a successful business:
1. FreshBooks
FreshBooks is hands down one of the best and easiest accounting software to use. It is designed for small business owners who are unknown to finance and accounting.
FreshBooks is known for its user-friendly interface and competitive pricing, providing small business owners with a comprehensive double-entry accounting system that allows them to track their finances and expenses easily. Its easy-to-use tools and reports demonstrate your company's profitability and how healthy your cash flow is and manages your spending as well.
FreshBooks is further considered one of the top picks for invoicing as it facilitates seamless creation, sharing, and tracking with clients. You can create a new invoice on a branded template with customization tools that are pretty intuitive in nature. It's equally simple for you to make the invoice recurring and automate sharing so that you don't waste hours manually recreating it every month. Clients are further allowed to pay for the invoice via the document.
FreshBooks takes billing and payments out of your hand and places them on autopilot.
A good thing about accounting software is also the various plans it offers that cover someone with just basic needs to businesses with complex demands.
Pros:
Simple to use and cloud-based
Third-party app integration
Time tracking and team collaboration tools
Inventory and expense management
Cons:
Doesn't provide payroll solution ( available as an add-on)
No documentation management
Minimal help in regards to onboarding
The mobile application has limited features
2. QuickBooks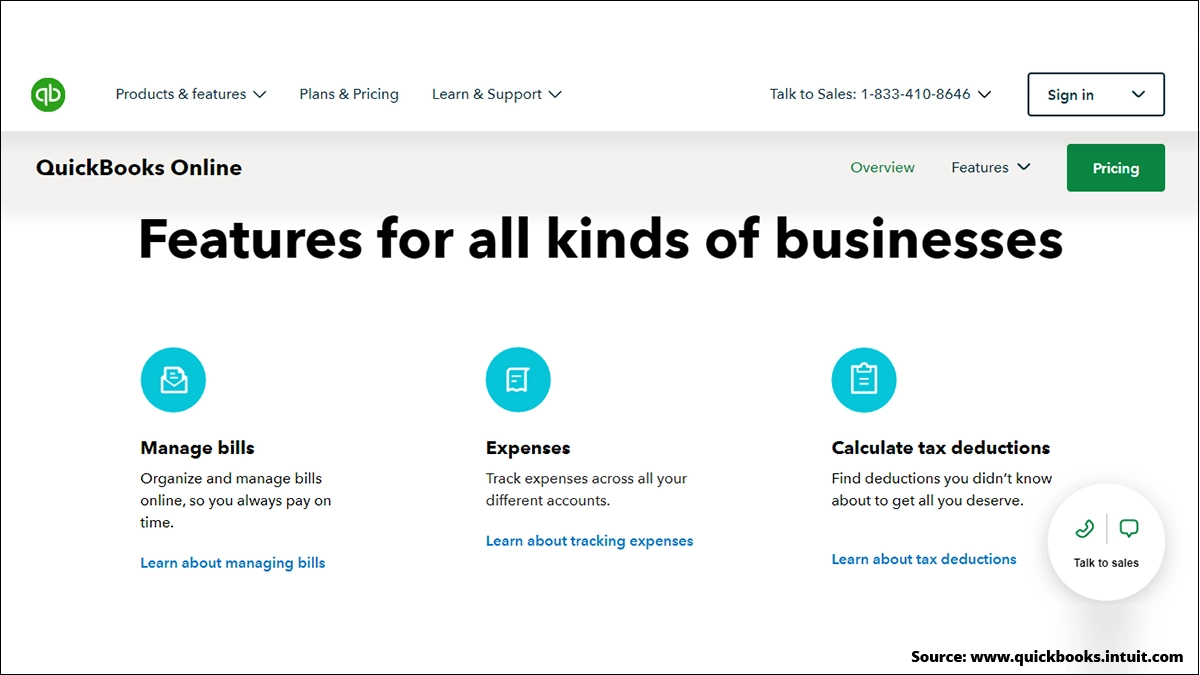 QuickBooks is one of the most popular accounting software for small business that is primarily known for bookkeeping but offers a wide array of accounting and finance solutions.
The software stands out because it's easily manageable, customizable, and comes with hundreds of add-on applications without burning a hole in your wallet.
While setting up QuickBooks, you can connect your bank and credit cards to the software, which helps to track your expenses and bills automatically. It further makes it easy to track time and billable expenses incurred by the subcontractors or employees. You have access to all the essential statements like profit and loss, balance sheet, cash flow, and taxes filed at your fingertips.
While for most business owners tax season is a time of worry and hassle, QuickBooks makes it simpler for your company to calculate your income and expenses as they take place automatically.
Once the 30-day free trial period ends, you're left with four plans that are for monthly subscriptions and come with different features.
Pros:
Offers usage support via phone
Integrates with other software
Supports payroll, projects, and many add-ons
Access via a mobile application
Cons:
Upgrade required with users increase
Confusing toolbar
Occasional syncing problems with banks
Does not have e-commerce features
3. Zoho Books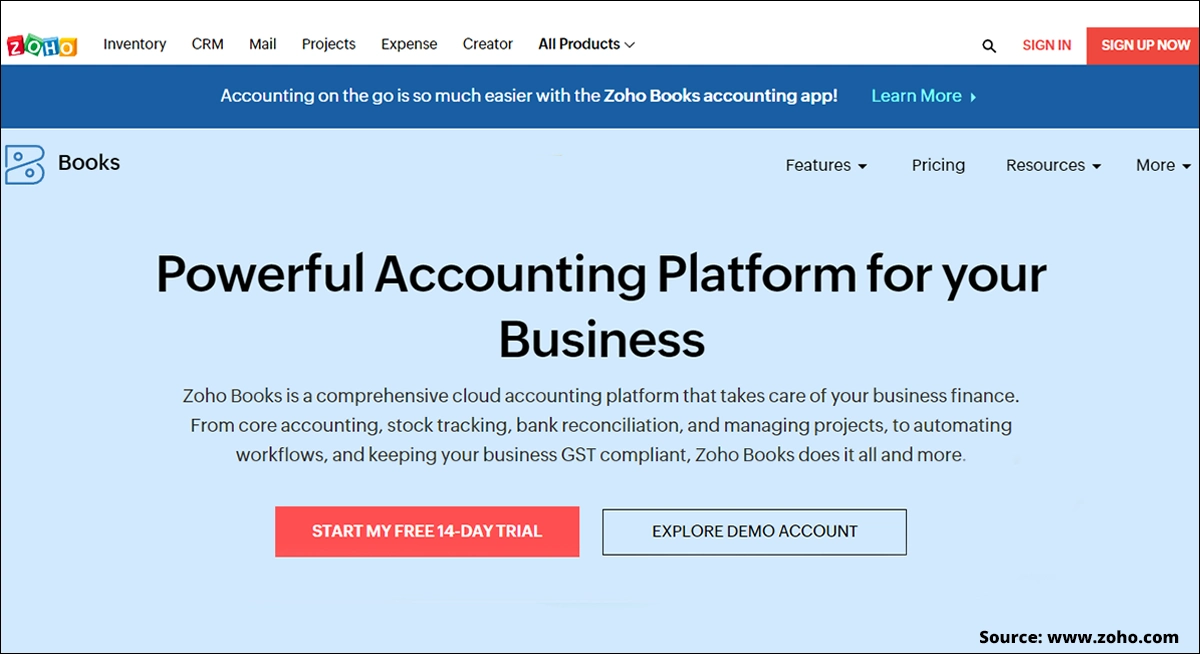 Another best accounting software for small business, Zoho Books is a comprehensive solution on the market for managing accounting tasks and organizing transactions. It meets all your basic requirements: invoicing, billing, tracking expenses, and generating reports.
Zoho Books stands out from other accounting software due to its impressive integration capabilities.  You can connect your bank account, e-commerce platform, payment processor, and more to the accounting software. This provides you with a real-time view of your company's finance which assists with strategic decision-making.
The software further provides advanced features such as time tracking and project accounting alongside contact and inventory management.
It is also scalable, meaning you can easily upgrade and integrate with other applications as your small business grows and develops.  Additionally, the software is available as a mobile app, allowing for accounting on the go.
Pros:
The mobile application works seamlessly
Exceptional, customizable reports
Recurring invoices
Integrates with other Zoho apps
Cons:
Payroll might cost extra
May be too complicated for small business owners
The free plan offers access to 1000 invoices per year
Upgrade needed for more users
4. Wave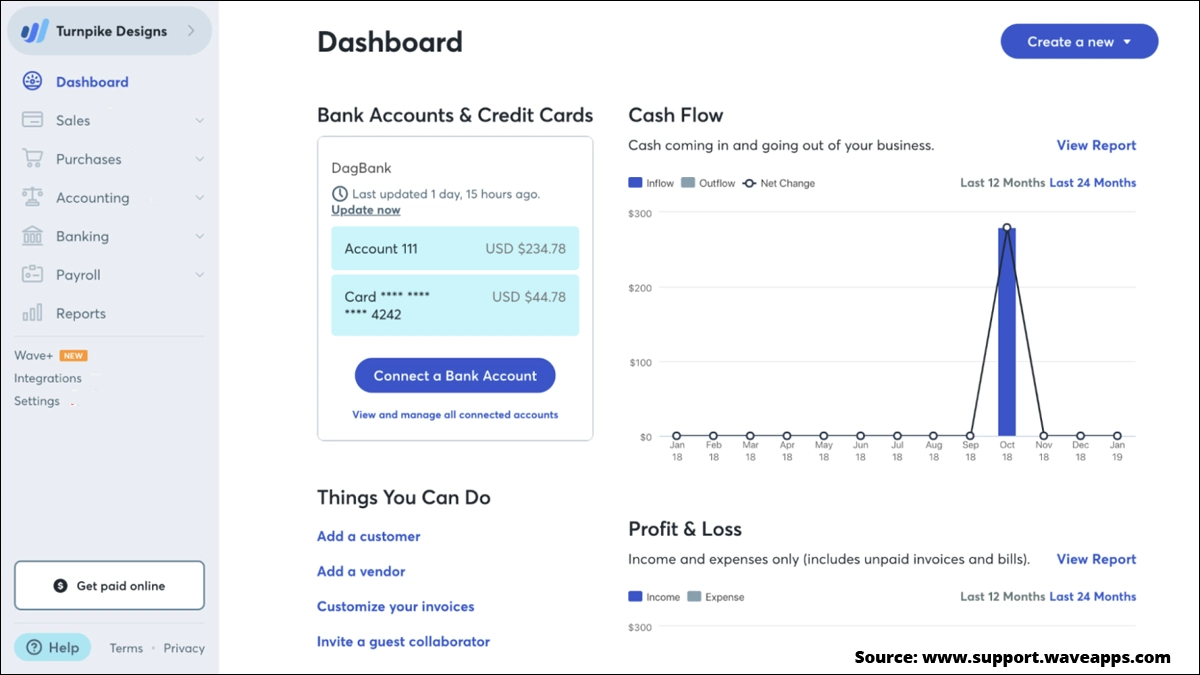 Wave is a one-stop accounting solution for small business owners that supports smooth and streamlined bookkeeping, invoicing, banking, and payments, among other things. It assures small business owners of reduced stress and increased focus by providing a user-friendly dashboard, a comprehensive overview of the business's financial health, and proper organization leading up to tax season.
After setting up your account, everything is available for you to start with. Your data is always further available for use and backed up for unforeseen threats.
Wave is especially skilled at invoicing and transaction management and is available in one of the cleanest, most intuitive, and most understandable interfaces. Integrated payroll and double-entry support make it a good choice for small businesses with fewer employees.
As one of the top accounting software for small business, it supports various currencies and comes with a smart selection of features for small businesses.
Pros:
Free for those who don't require payroll
Excellent transaction management and invoice
Smart dashboard
Unlimited number of users
Cons:
Full-service payroll solutions are limited to specific countries
Fewer features on mobile application
Inadequate record templates
Higher fees for credit card payments
5. Xero
Xero is a robust accounting software for small business owners that helps to take care of every financial element: purchases, sales, bills, expenses, payroll, and inventory. It also offers excellent reporting, advanced analytics, and effective tools to track projects.
The software automates tasks that take more of your time – sharing invoice reminders, supporting online payments, and reconciling bank transactions, and makes things easier for you.
You can further access your Xero features and data from anywhere. The mobile app ensures that particulars like invoicing and payrolls are at your fingertips.
Moreover, the video tutorials provide a simple introduction to setting up and running Xero.
Xero has a clean and smart interface and fully integrates with other applications. It comes with an unusual tool in the category of accounting software for small business that tracks fixed assets.
One last important thing Xero is meant for every type of business – retail, service, construction, and non-profit, among other businesses.
Pros:
Advanced analytics
Easy inventory management
Comes with 24/7 support
Makes use of AI effectively
Cons:
Limited customer service
Payroll might cost extra per month
Time entries are needed to be connected with projects
Fewer choices with reporting
The Final Verdict
The bottom line is investing in accounting software for small business is the best decision a small business owners can take. It has plenty of positives, mainly around managing expenses and tackling tax season.
Selecting the ideal accounting software for your business is a personal decision based on your unique goals and requirements. Finding a solution that caters to your specific needs and provides room for business growth while being mindful of cost and avoiding unnecessary features is essential.
Most of the accounting software we covered is available with different plans – some even have a free version. So, you can start with the free trial or basic plan and move ahead with the more potent features when needed.
Given the increasing popularity of accounting software, it is soaring high, which makes it the perfect opportunity for B2B marketers to share their accounting services or related solution with small business owners.
Hopefully, one of the above-listed accounting software is the best fit for you.