Small business owners are the primary drivers of global economic growth. According to the latest estimates, there are 30.7 million small businesses in the US alone, which accounts for about 99.9% of all the businesses operated in the country today.
Small businesses don't run on autopilot mode instead they also use products and services available in the market to run their daily operations smoothly and that's where the opportunity comes in to pitch or sell your services to small business owners. Although, it becomes tricky when it comes to how to sell services to small businesses. After all, it is not easy to explain the benefits and features associated with something intangible. Selling services is more about putting out yourself, your team's expertise, and the value your organization brings to the client.
Moreover, small business owners work on tight funding, desperately trying to cover expenses and earn profits. If your service is built to serve small businesses, you will need a sales approach.
This blog will help you through the ways to introduce your services, get your message across, and connect with folks who are looking for the service you provide. Let's get started!
1. Define Your Niche & Target Audience
Not everyone is meant for your B2B business. So, rather than expecting a simple answer to 'how to sell services to small businesses,' first understand what you need to do. As you prepare to sell, consider where your brand and service stand in the marketplace and how you're different from the competition. Take time to conduct market research and competitor analysis, and examine your past experiences, goals, and strengths.
Identify your niche market – a specialized area of a broader market that your business can serve well. This can help you position your business as a specialty in a service field and set yourself apart from the competition.
One way to learn about your ideal audience is by acquiring a small business email list with information on demographics, firmographics, and other relevant details.
Well, how to sell services to small businesses now? Because you're selling value – not a product, you need to know what your potential buyers look for when seeking the type of services you provide or the problems they face.
2. Build a Strong Online Presence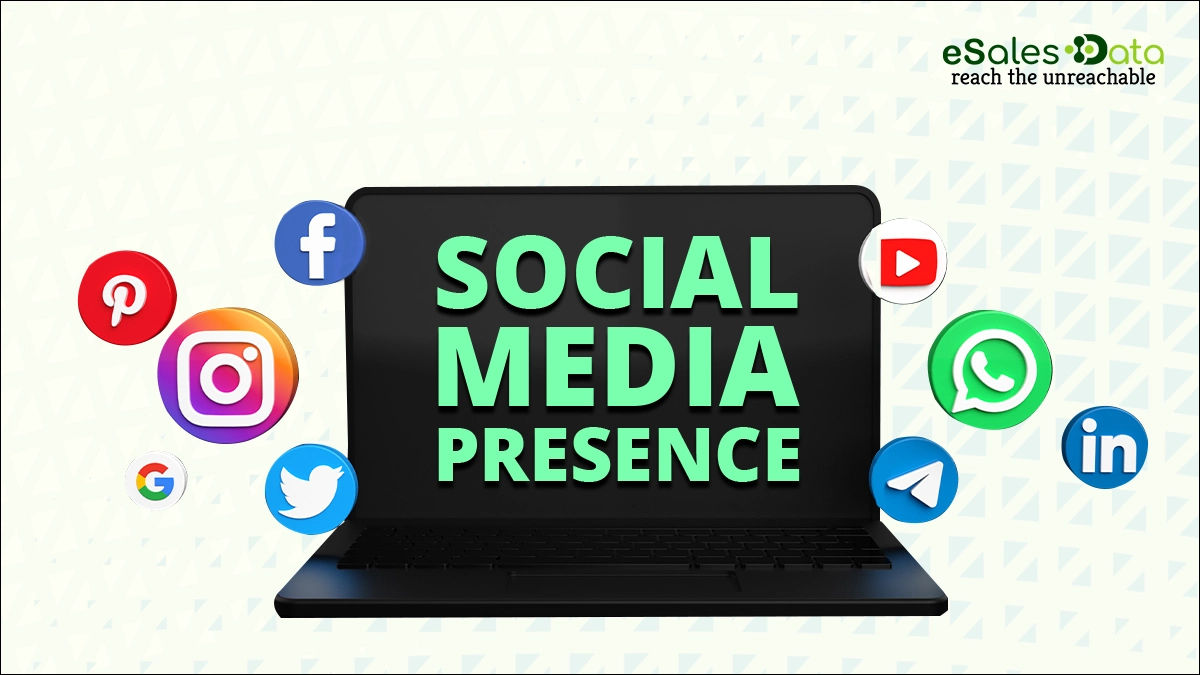 In the digital world that we live in, a social and online presence is a must. Spend money on a professional website, a media kit with a brochure, and high-quality business cards.
Moreover, ensure that you use a dedicated address and phone line for business calls. New clients will be looking to learn more about your business – a website provides an easy route to demonstrate your services and expertise. Use separate web pages to describe your company's history and mission, the services you offer along with price, and how potential prospects can reach out to you.
Throughout the website, keep the tone friendly, keep the design minimal and ensure easy navigation.  You may also add your business to Google maps, Apple maps and also you could create a Google Business Profile (GBP) to enhance online visibility. This is beneficial when your audience is small business owners spread within a specific boundary. Those will probably conduct a local search for the service they require or need, and the results will place your business in front of them.
3.  Highlight The Benefits & Outcome of Your Service
When the question is how to sell services to small businesses, it is crucial to focus on the benefits. Instead of informing potential clients about the service you offer, try relaying information on how you can help them. Since 42% of small businesses fail because of a lack of demand, companies that are able to convince how their service will help them out in this vexed position are more likely to be hired.
Many business consultants sell themselves as problem-solvers rather than as simple consultancy providers. For example, if you offer financial consultancy, you shouldn't sell that you offer payroll, investment, or budgeting solutions; you must advertise that you help small business owners improve their revenue stream, minimize debt service, and manage tax liabilities.
A digital marketing agency, for instance, must advertise more than a list of standard online services. It must demonstrate its unique skills, techniques, and strategies that will help small business owners build a solid online presence, acquire more customers, and make more sales.
4. Try To Hit the Emotional Cords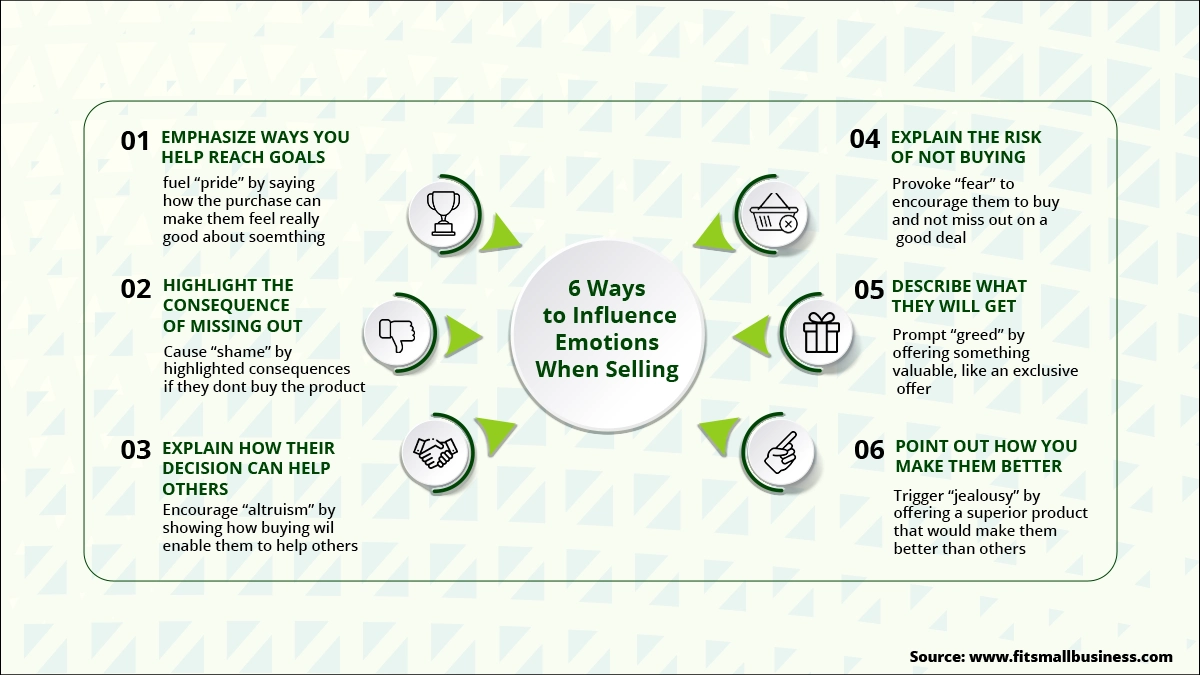 So, when thinking about how to sell services to small businesses, know that B2B businesses must try to string the emotional cords of their audience.  Most of the time, emotion is what fuels their decision-making. To encourage people to take action, you must get them to feel something about your business. For that, it is essential to understand what your potential clients are passionate about and what they are struggling with.
Once you have understood your consumer on an emotional and more personal level, use this information to create content or a story they can relate to.
5. Don't Aim to Sell but Rather Help
People often avoid the field of sales. Only 18% of sales professionals are considered to be trusted by customers.
While you're making a sales pitch, don't start straight away with the pitch itself. It is best that you mention the different services you offer and provide them with a free resource or suggestion that helps them out, like a newsletter. For email campaigns, you may get important insights from a B2B email list provided by various database solution providers to make things easier for you.
An SEO agency, for instance, can run a website audit or check potential prospects, pinpoint the client's exact problem that's hindering its visibility and ranking, and provide a solution.
5. Sell With Video
88% of marketers have stated that video provides their business with a positive ROI, and 72% of people clearly prefer video content over text to learn about a product or service. Considering these numbers, it is time to develop a B2B video strategy for your marketing and sales.
Not only does it enable you to engage with the audience on social media, but it also helps to educate your prospects through product demos or sell your service with client testimonials and provide webinars that build authority and help buyers with decision-making.
To that end, here's a four-part framework to create a video for better results:
Start off with a hook, it could be a question that immediately brings your target audience's attention toward you. Ideally, something that asks them about the problem they're facing.
Move ahead with introducing yourself briefly by focusing on basic details. Then, drive straight into the issue, and spend your maximum time discussing their problems, pain points, and concerns.
Next, bring attention to your service and its benefits, and explain how your service offers the solution to the problem.
Finally, add a Call-to-Action (CTA), and spell out what they should do to take a step closer to solving their problem. Make certain that the CTA is precise, direct, and clear.
7. Develop And Use Social Proof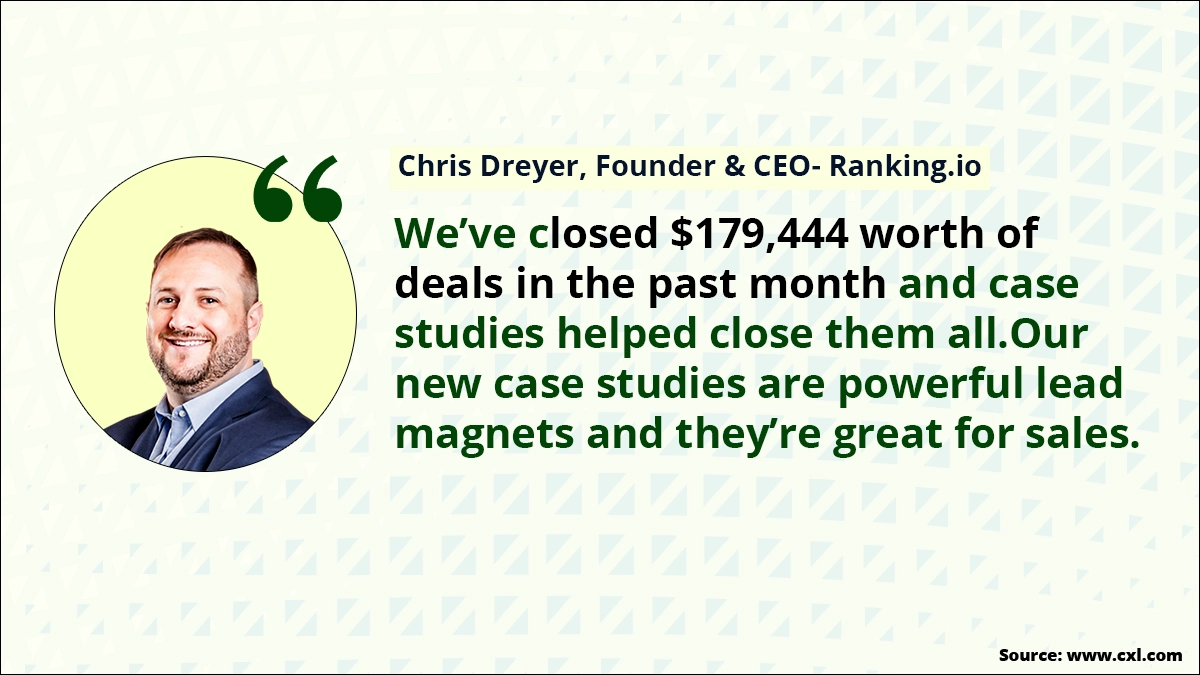 Robert Cialdini, American psychologist and academic discusses that people are most likely to take a specific action if they can see others taking it as well. If you can show your potential prospects that others have used your services and gained immense benefits from them, you are more in a position to increase the chances of making a sale.
Social proof for a service-based business taken on a number of forms – case studies, testimonials, online reviews, and references. This step is more important for service providers as they don't have a product. You may ask your previous clients to give a statement that you can use on different advertising materials, like website or social media.
Note that testimonials from other small business professionals alleviate the fears of prospects because they know that others in their state have already inspected and benefitted from your service.
Case studies are another way to demonstrate social proof and acquire the trust of clients. Once you have a few of them lined up, you can place them on your website or tell those during the sales pitch.
The Bottom Line
Selling services to small business owners is not as difficult as it seems. Once you have defined your market niche and ideal audience segment, the rest is all about coming up with effective strategies that sell your service in your specific sector. Start with creating a solid identity for your business and move on to talk about your services. Show clients how they will add value to their life and solve the problems that are hindering the growth of their small businesses.
Moreover, focusing on helping clients and building relationships with them will make it much easier for you to close more deals.