3D printing technology is constantly evolving to meet the requirements of manufacturers across different industries. New 3D printing industry trends continue to surface. The scenario was not the same a few years back, but 3D printing has shown immense potential, as evidenced by the 3D print market growth. As per the latest 3D printing statistics, the global 3D printing market size is expected to grow at a CAGR of 18.92% from 2023 to 2032 and attain a value of $98.31 billion.
New applications of 3D printing are emerging every day across several industries, including automotive, aerospace, healthcare, etc. In the near future, additive manufacturing will become integral to these industries and many more. So let us explore some of the major 3D printing industry trends and understand why it is an intelligent choice to make in digital manufacturing.
Sustainable Manufacturing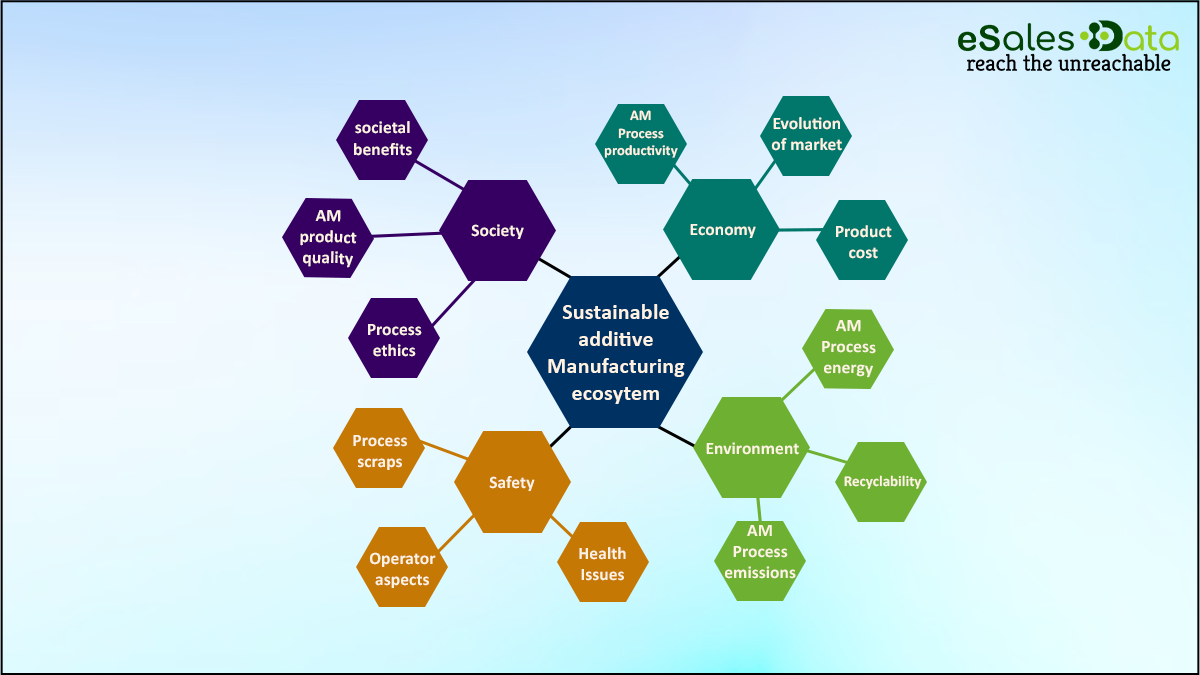 The manufacturing industry has always been a questionable sector due to its influence on our ecosystem. As brands and manufacturers resolve to reduce their impact on the environment, sustainability has become a significant aspect across industries. Companies are taking action to lessen energy consumption, reduce their carbon footprints, decrease the usage of non-recyclable material used in production and packaging, and more.
With the 3D printing industry growth impacting traditional manufacturing, there is a considerable acceleration in this trend. 3D printing enables businesses to reduce production waste, CO2 emissions, and more. Designers are continuously working to evolve and reinvent their designs across the production cycle to use raw materials more efficiently. For instance, In Computer Numerical Control (CNC) technology, raw materials are cut, and remains are disposed of. However, additive manufacturing can lower this wastage by nearly 90%.
Similarly, application-centric manufacturing has also taken center stage as additive manufacturing has reduced the overproduction of goods. Moreover, innovation with lighter and stronger parts has enabled the manufacturing of lighter vehicles and aircraft, enhancing fuel efficiency and racing energy consumption.
Additionally, 3D printing enables companies to share digital files for local manufacturing; there will be a crucial decline in the shipping and transportation of goods, lowering costs, resource wastage, and carbon emissions. Apart from aiding industries' efforts, the amalgamation of 3D printing and manufacturing will also meet consumer demands for product sustainability.
Digital Supply Chain on the Rise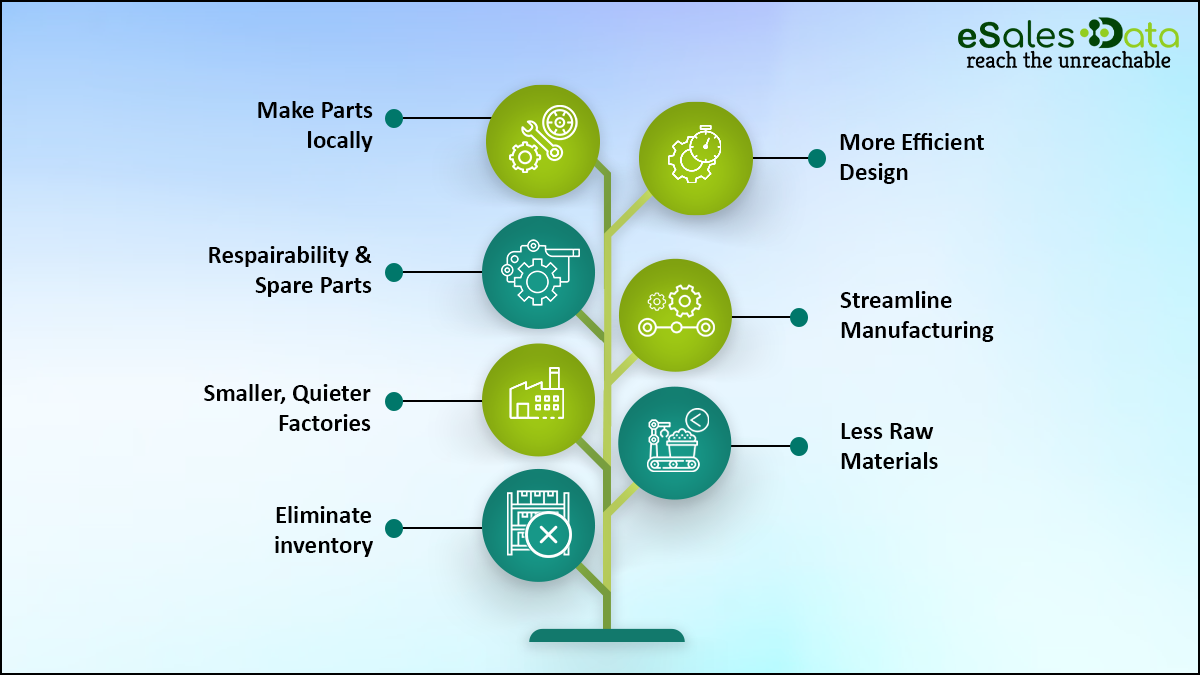 In the wake of the COVID-19 pandemic, the vulnerabilities of supply chain management came into the picture. One missing component and one late delivery could bring the whole production to a standstill. As such, a more streamlined and integrated supply chain process has gained momentum to reduce costs and increase efficiency.
3D printing advancements will effectively digitize the manufacturing processes by enabling on-demand and localized productions and replacing traditional inventory with a digital filing system. This can provide more control and agility in business and reduce wastage.
For example, the packaging processes can significantly utilize 3D printing to facilitate local manufacturing of cardboard boxes based on demand reducing shipping and inventory costs. This can also enable the production of customized packaging to suit specific needs, thereby enhancing the efficiency of the supply chain. Similarly, we can print critical production components on-site and share digital files securely, saving resources spent on logistics and warehousing.
In essence, using 3D printing to create a digital supply chain will lead to more transparency, efficiency, and adaptability.
Transforming Construction- Metal 3D Printing, Robotic Arms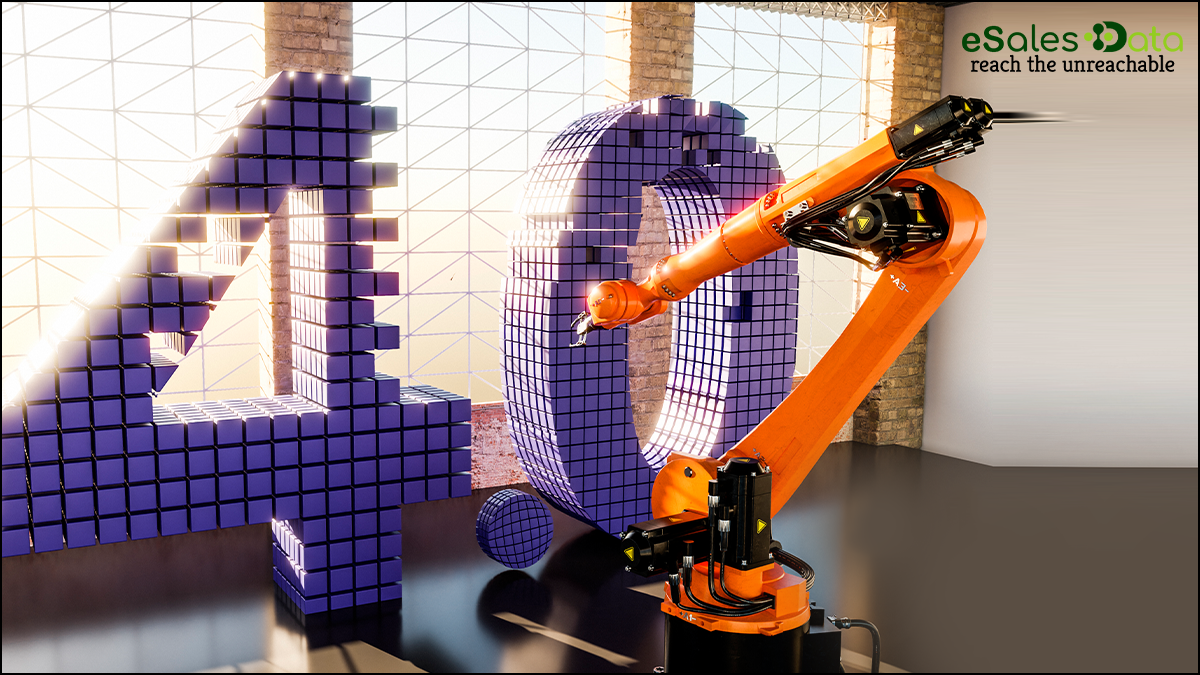 Another significant one among the 3D printing trends, which is here to stay, is using 3D printing in construction.
3D printing was first used in the construction industry in 2004 to build a wall. It has come a long way from there, and the current 3D printing technology is central to the transformation of the construction sector.
The construction industry these days is heavily incorporating 3D printing through
Contour crafting is a popular technique in concrete 3D printing in construction. Giant robotic arms move simultaneously, removing concrete and mud layer by layer. The nozzles attached to the arms ooze out the material while the trowels compress and flatten the layers.
It facilitates the production of complex metal components at comparatively low costs and minimum wastage than traditional processes. Metal structures can be 3D printed at the rate of 2 kilograms per hour. This technique was invented by a Dutch company called MX3D which named it wire arc additive manufacturing.
Additionally, metal polymers have gained more popularity as they allow the manufacturing of metal parts with filaments. However, it has its limitations as it is only suitable to design smaller parts with simpler designs.
Revolution in Medicine- 3D Bioprinting, Customized Prosthetics, Dental Fixtures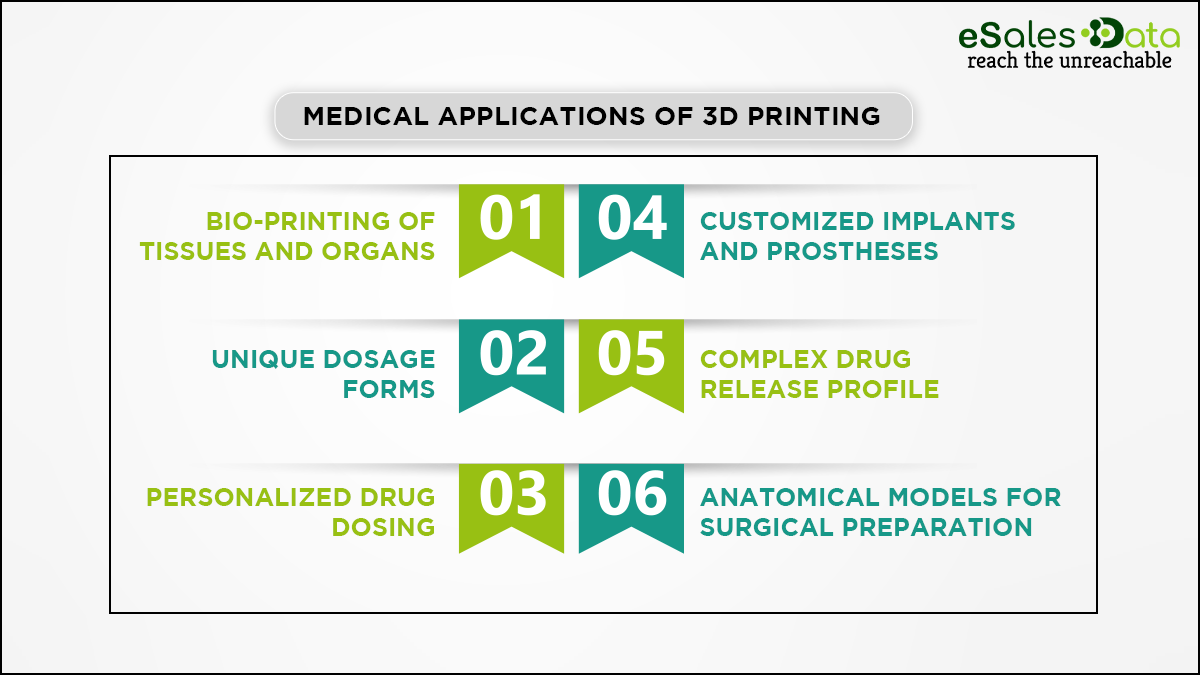 The healthcare sector is widely incorporating 3D techniques for medical and dental procedures to personalize the experience for each patient. It all started in the 2000s and has evolved a lot in the past years as now doctors can produce bones, tissues, cell cultures, etc, and revolutionize the traditional methods. 3D printing is extensively used for the following medical applications:
3D Bioprinting organs and tissues
A combination of 3D printing and biotechnology, 3D bioprinting creates living tissues by arranging cells in a particular order. This technology is still evolving and will be a crucial development in medicine in the future that will help improve the quality of life for patients. For instance, diabetic people can produce insulin cells minimizing their dependency on external injections and medicines to control sugar levels.
Bioprinting uses inkjet-based, laser-based, and extrusion-based techniques to produce organ tissue to address the shortage of organs and help people suffering from organ failure. A biotechnology industry email list will help you connect with biotechnologists and understand their industry processes.
Additionally, this technology is being used to develop human skin to enhance cosmetic procedures and help burn and accident victims with severe injuries. This will also lead to the reduction of cosmetic testing on animals.
Customized dental implants and prosthetics
With additive manufacturing, doctors can now find quick, customized solutions for dental issues and develop customized dentures, implants, ridges, etc. Manufacturing these implants take up a lot of time with traditional methods; however, with 3D printing, it can be done within a few hours.
3D scans also help to develop accurate prosthetic limbs for patients to improve their quality of life. Custom-fit prosthetics are manufactured at affordable costs within a span of 24 hours, which usually requires several days and multiple iterations to acquire the perfect fit. 3D printing has enabled personalized solutions for orthopedic issues, such as mandibular implants for maxillofacial surgery, knee implants, cranial vault implants, and more.
Pre-surgical planning
Surgeons use lifelike replicas of patients' anatomy to complete procedures they usually will not attempt. They have the potential to plan complex surgeries with personalized 3D anatomical models, like a kidney with a tumour, decrease operating and recovery time and improve success rates.
These anatomical models are created with precision through unique CT scan details of each patient. 3D printing enables the designing of even thin walls of organs and complex geometries inside them with 0.1 mm accuracy. Moreover, replicating human anatomy to depict vast clinical scenarios is the perfect replacement for cadavers.
Innovation With Hybrid Materials Among the 3D Printing Industry Trends
In the near future, we will continue to witness the merger of material science, manufacturing processes, and technologies to create unparalleled innovations. As the investment in additive manufacturing technologies advance and 3D printing market growth gains acceleration, the significance of 3D printing materials has increased substantially.
Raw materials pose a huge barrier to adopting 3D printing technology completely. Initially, only low-grade polymers were used to design prototypes. However, now the full potential of 3D printing is coming to the forefront as new hybrid 3D printing materials like industry-grade plastics, ceramics, composites, etc, are available.
These materials are designed to serve specific purposes and meet the requirement of different industries. You can alter the ductility and tensile strength of these materials by modifying the process parameters throughout the additive manufacturing procedure to complete specific applications.
For instance, the development of new-age polymers such as PEEK and PEKK and carbon fiber-infused thermoplastic composites exhibit tremendous strength compared to their weight. This makes them a more viable and cost-effective option than metal. Moreover, materials like ceramics possess high potential to redefine 3D printing in the aerospace, energy, and medical industries, etc. Other alloys consisting of aluminum, stainless steel, chromium, copper, etc., are also getting into the limelight.
Progression Toward Automated Manufacturing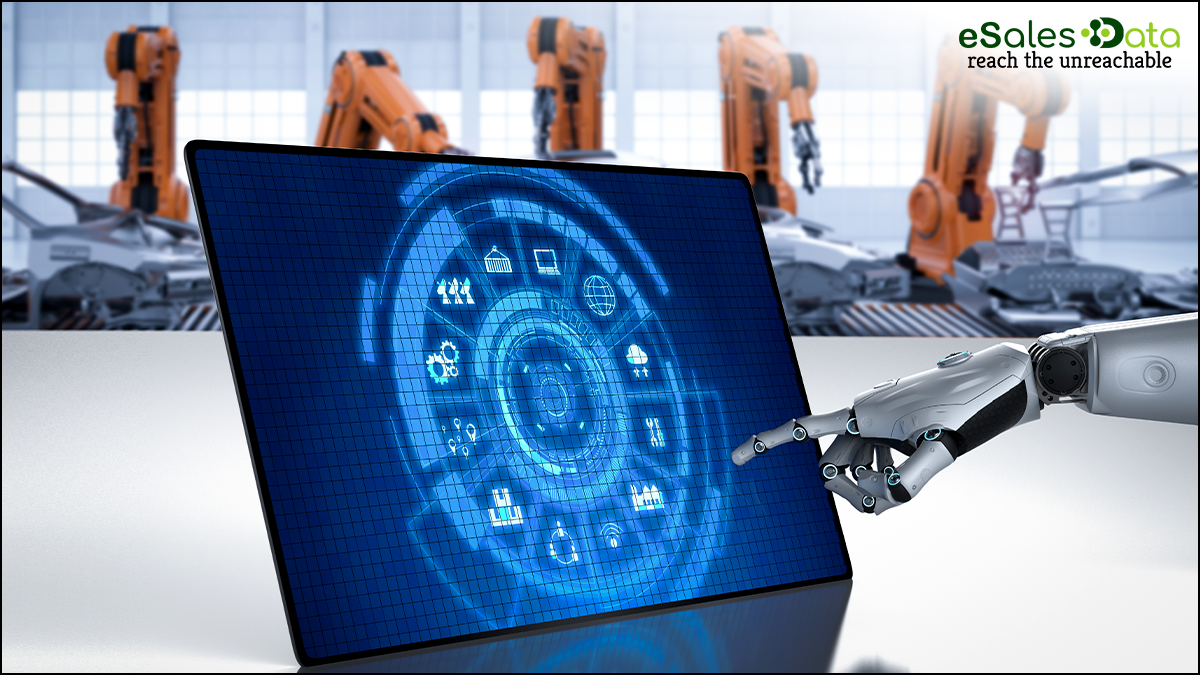 3D printing or additive manufacturing is widely considered a digital automated process, but in reality, it is not. Even though the 3D design of an object is created digitally, the complete process requires human efforts to connect with 3D printers, load the object on the printer, and supervise the whole printing process.
However, automated manufacturing is a fully automated process in which the machines do the complete job, from designing to creating a component from scratch. Designers only need to input a set of instructions for the machine to follow and complete the task. The manufacturing industry will witness a significant transformation as this technology evolves.
Moreover, 3D printing will allow the automated assembly of parts, including 3D-printed metal and plastic components, which will immensely benefit the industrial sector. Although a super printer is yet to be developed to conveniently print metal and plastic, scientists are working to overcome temperature barriers and manifest this revolutionary idea. This technology will benefit the automotive industry in particular as they will be able to integrate metal into plastic and even manufacture conductors with plastic.
Wrapping Up
3D printing technology has come a long way since its genesis, and it continues to unwind into a powerful tool. Although it has its limitations, the 3D printing industry trends are a testimonial to its promising future.
The way it is revolutionizing the healthcare and construction sector, streamlining supply chain processes, and contributing toward a sustainable manufacturing future, 3D printing is the ideal solution to all manufacturing challenges.