3 percent! Only 3% of the B2B marketers achieve their goals, while the rest scramble to make the bare minimum. The major setback lies in the fact that only 32% percent of the companies allocate a marketing budget that actually procures some results. While in-house marketing activities are much appreciated, staying on top of the game can be daunting if proper B2B marketing strategies are not adopted.
In support of the common belief, B2B email marketing strategies generate the highest ROI, contributing 60% to a company's revenue. Stats state the obvious – a good marketing practice will consistently yield better results.
In the modern buying era, consumers rule the industry. Whether it involves multiple players or not, their buying decisions significantly impact a business' growth. For instance, you could be planning an organic way of reaching the buyers, but they might prefer a more direct, personalized approach. This expectation is one way for them to evaluate your adeptness at providing what you claim. In order to build that kind of trust, you ought to present options compelling enough to keep them from looking elsewhere. That's why having a solid plan and sticking to B2B email marketing best practices is critical. So, without further ado, let's discuss practical solutions marketers can use to prepare lucid campaign tactics and drive remarkable business changes.
1. Create a Defined Buyer Persona for an operative Business to Business Marketing
Whether a newbie or not, the first crucial step to successfully establishing your brand is having an unbiased perception of the target market. Say your business to business marketing involves promoting healthcare products, especially medications and formulations, then your prospects could be well-known hospitals, physicians, medical stores, retailers, and so on. You could leverage a Physicians Email List or a Pharmacists Email List to target your audience. Narrowing down the target audience and creating a dossier of the buyer persona will help you give undivided attention to the goals at hand. The more distinct and filtered the personas are, the easier it becomes for you to nurture them and send tailored messages as per your understanding about the personas.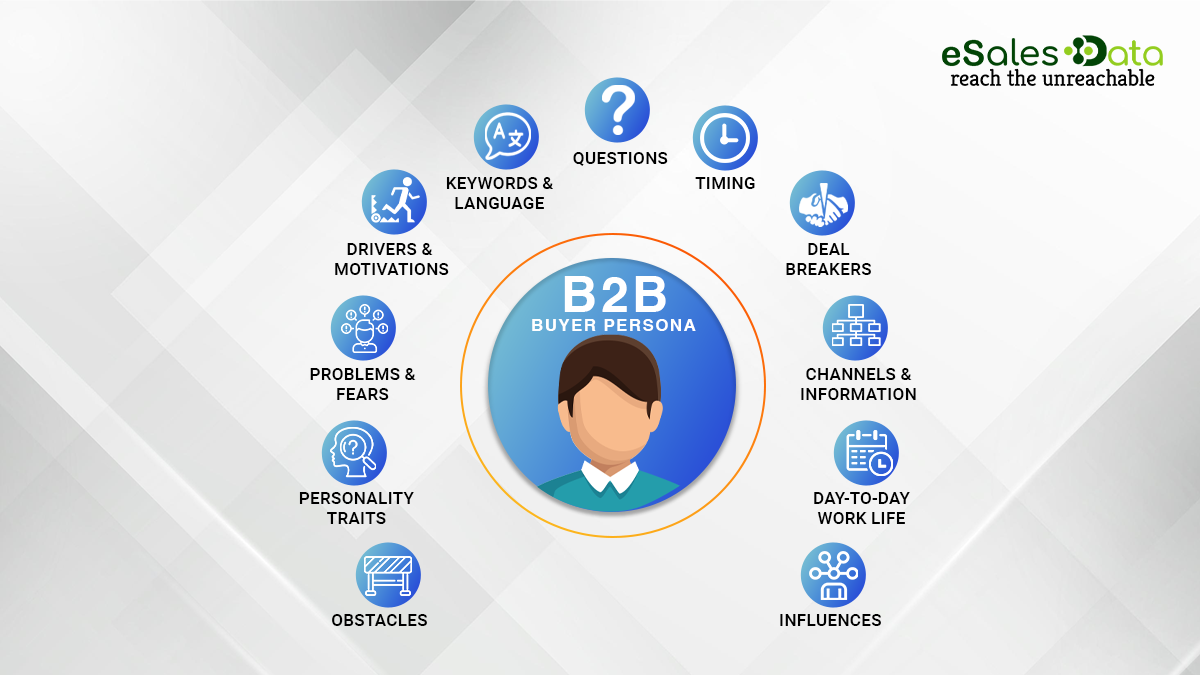 Ask yourself these questions before building an ideal client profile:
What kind of content is consumed by prospects and leads?
What do they stand to gain – solution to their pain points, reasonable pricing, or a better version of an existing product?
What is the preferred mode of communication? (email, direct messaging across social networking platforms, face-to-face meetings)
Ask customers about what features they like in your product or service.
Another essential aspect to remember is that contemporary B2B decision-makers and stakeholders are young, precisely below 40 years. Their way of processing and assimilating marketing pitches is starkly different from how it was done decades ago. They are more present in the digital space than on conventional platforms. So, fastidious research on the demographic, firmographic, and technographic indicators of prospective customers can give you insights into generating qualified leads.
2. Fix Clear Objectives that Convert into Actionable Intelligence
Once you have established the target population, setting measurable and actionable goals slides into the second stage of B2B marketing strategies. It helps you keep track of the progress made during a campaign. KPI metrics, for instance, are a great way to measure business ROI. You can schedule a timeline – prepare a roadmap of your achievements and aspirations. It can be weekly, bi-weekly, monthly, quarterly, or annually. There are CRM software to automate your workflow. If you're searching for technology products to measure productivity and manage marketing outputs, you can reach out to companies selling such software via a Technology Email List. Analysing your company's strengths, weaknesses, opportunities, and threats gives you a clear idea on leaping ahead of your competitors. Some of the metrics you can track for the company's SWOT analysis are:
Strengths –  powerful branding, high domain authority, responsive email list, solid social media presence
Weaknesses –less email frequency, less marketing budget, publishing less blog content, less social media presence
Opportunities –email marketing, podcasting, white papers, e-books, webinars
Threats –low customer ratings, high customer attrition, relying on one big spending customer
The key to gaining upper hand in a competitive industry is following the 4Cs involved in a B2B email marketing and other campaign techniques:
Collaborate with marketing, sales, and support to ensure smooth execution of your marketing plans.
A cohesive brand image builds trust among your audience. It is one of the crucial markers used to determine a company's growth. Cohesive marketing gives space for clients and soon-to-be clients to witness changes, new additions, and experiential product evolution in the brand.
Creation can mean anything in the marketing realm – content creation for branding, product development for expansion, testing archetypal services for better customer experience, and so on. A successful brand strategy is built upon by taking a holistic view to the intended vision.
Another significant element in B2B marketing strategies is establishing important, forthright, and expert connections with business professionals at each echelon of a company.
3. Use Multiple Points of Contact and Channels for Targeted B2B Marketing
Different business to business marketing formats should convey the same message about your brand– we have better solutions and offer the best services. Since the prospective groups use cross-platforms to scrutinize and evaluate a brand, the perfect course of action would be to target them across the most familiar and adapted interactive media. It could be outbound or inbound – either way, reaching the target audience is the prime goal.
Outbound marketing is a process where the company makes the first move – connects with potential customers via cold calls, cold emails and SMS, television and radio advertisements, exhibitions and fair shows, and print media such as pamphlets, mailers, product sheets, etc.
Inbound marketing, one of the most preferred B2B marketing strategies, involves a company creating content-based strategies to attract the target population. It may include a stellar landing page, repurposed blogs, eBooks, podcasts, blogs, case studies and testimonials, video content, SEO optimization, whitepapers, guest posts, infographics, webinars and events, and emails. Always remember, the aim is attract, engage, and convert prospects – and during that process, people tend to go overboard – start dumping too many information which may derail the whole objective. Whatever approach you take, make sure to time it appropriately – the frequency of contact should be regulated and not forceful.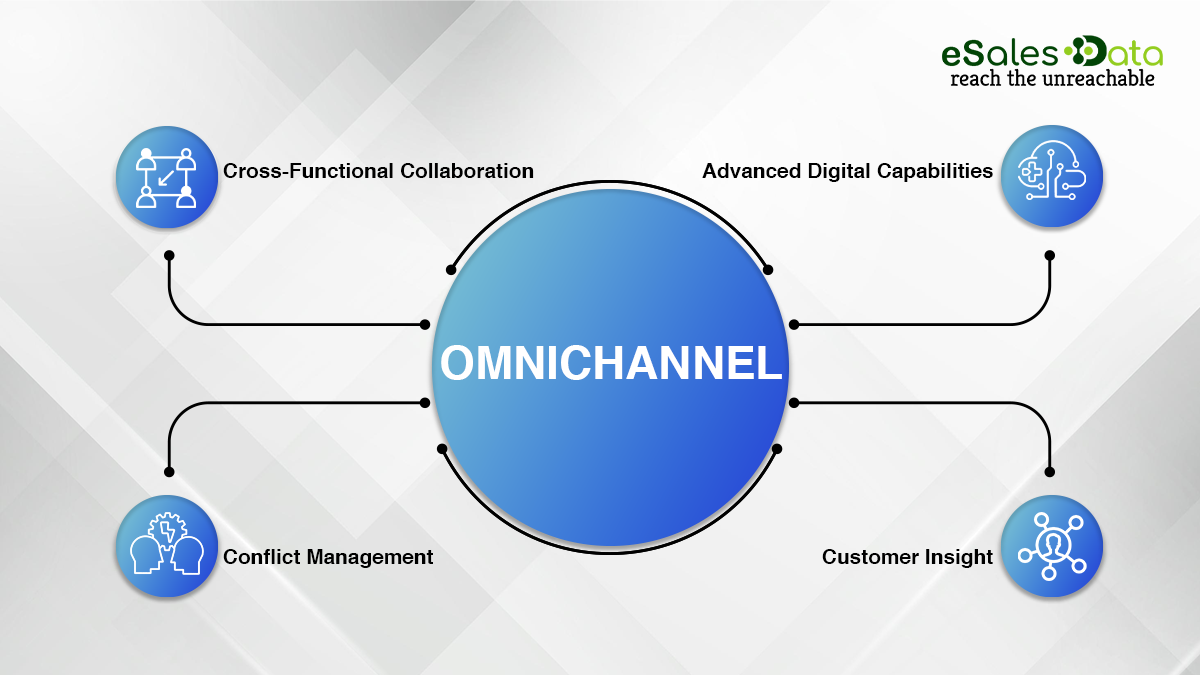 4. Maximize Conversion Rate With High-Grade B2B Email Marketing Strategies
B2B email marketing strategies hold a special place in the industry, as it is one of the oldest yet the most effective tools of conversion. Following some of the B2B email marketing best practices can surprisingly land you under the radar of your intended audience. These practices encompass:
Precise and catchy subject line – the one that piques an individual's interest to click open the email – preferably around 50 characters.
Start the subject with a human touch – with everything going artificial and machine-based, personalization is the key to touch base. That requires maintaining a conversational yet crisp tone. Do not write lengthy messages. Keep it short and real. Ideal words of text would be within 150 words.
Your campaigns should address the why, how, and what aspects of your potential customer's needs
Set up a drip campaign schedule that is automated to reach the inboxes periodically.
Include visual imageries to make your messages more enticing
A compelling call to action phrase at the end would be an icing on the cake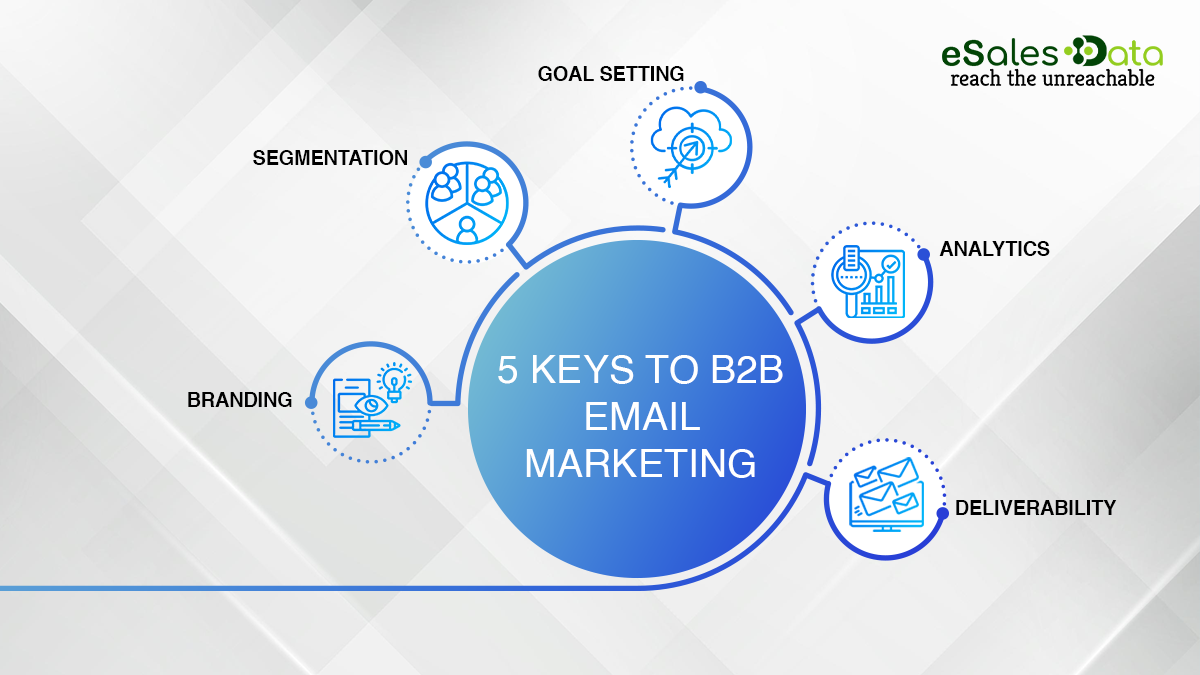 However, email marketing is only as effective as the validity of a prospect's email address. You can leverage the services of third-party database providers to acquire an accurate email list of the target audience. For example, a B2B Email List can help establish contact with leading experts in the B2B industry. This way, you can invest more resources in perfecting your marketing campaigns rather that building an own list.
5. Keep Track of Your Marketing Performance for Optimization
A research survey conducted in 2019 indicates only those companies that monitor their marketing metrics succeed in building impactful brands and make profitable returns. Performance-focused marketing is the new norm and undisputedly metrics make difference. As a B2B marketer, you should be aware of two types of performance metrics: brand-based and revenue-based. Brand-based metrics determine the success of business to business marketing based on:
Awareness
Pertinence
Uniqueness
Brand Voice
They help score your marketing funnel and make quantifiable measurements through calculations based on customer engagement, website traffic, search volume, and impressions. Improvement in brand-defined metrics means that the right messages are delivered to the right audience.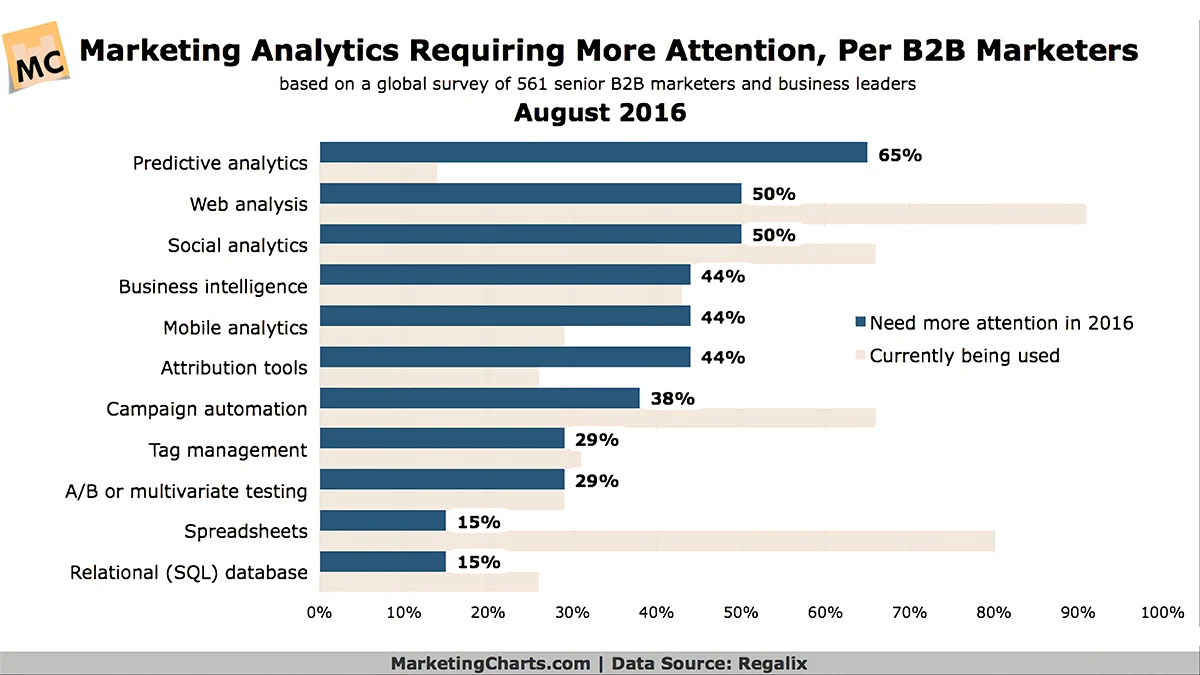 Revenue-based metrics focus on conversions – meaning how many qualified leads convert into paying clients. Also known as conversion or sales or finance metrics, they indeed determine the revenue generated by the company against the budget allocated for marketing. Keeping track of your sales metrics is crucial to gain insights into the customer acquisition rate, client retention rate, and churn rate. Such metrics are measured by means of profit margin, return on ad spend, and revenue per employee. However, it is also equally critical to watch out for vanity metrics, because they can deter you from actual growth. Performance metrics keep you grounded and aid in making critical business decisions.
Kick Off To a Great Start with Hands-On B2B Marketing Strategies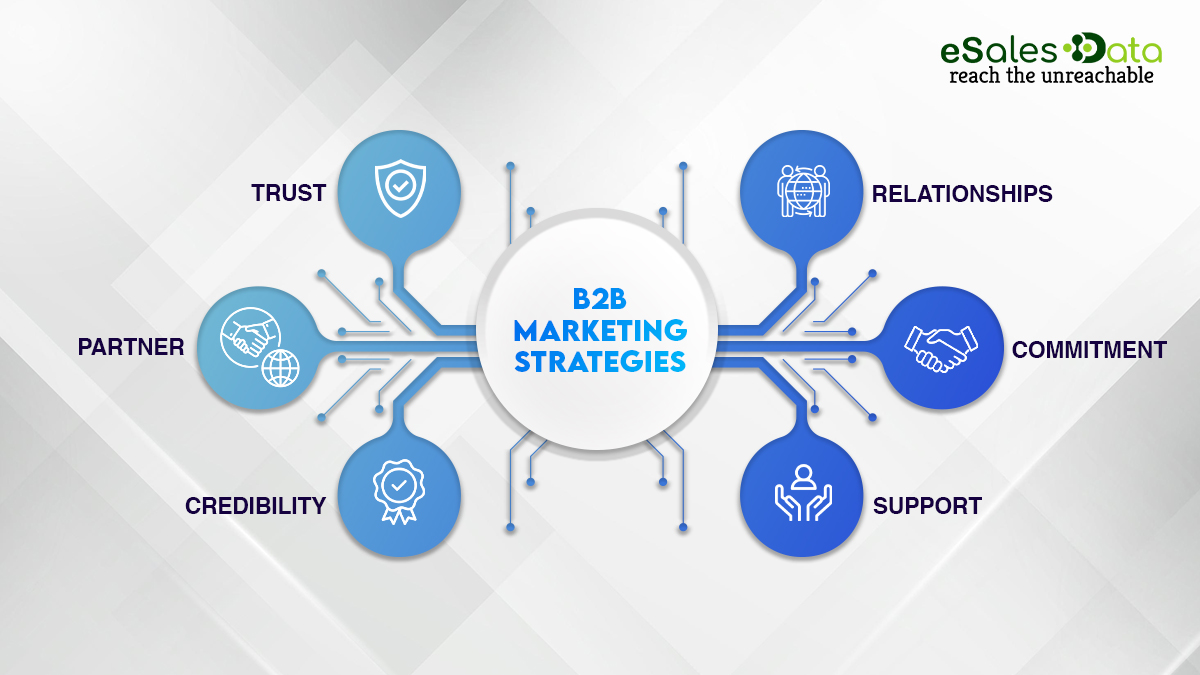 On a concluding note, let's discuss a few key takeaways to make your B2B marketing strategies stand out among the crowd:
As is the general rule of thumb with B2B email marketing or any other mode of campaign, personalization opens doors to innumerable opportunities. Prospects are more inclined to listen to your sales pitch if it complements logic and emotion.
The fundamental take on B2B marketing strategies involves heavy industrial research, ideating your goals, defining the niche group, finding innovative strategies and formats, implementing the identified tactics, and dissecting the results for streamlining.
B2B email marketing best practices include taking a conversational, precision-based, and contextual approach.
Business to business marketing involves multiple stakeholders and decision-makers. So, shorten your sales cycle with content that lets you connect.
Ultimately, monitor your metrics because they matter!