The Growth and Revenue of the Accounting Industry
"Between 2016 and 2021, the market size of the Accounting services industry in the US has grown 1.5 percent per year on average".
The accounting sector in the US has been unwaveringly growing over the past few years, and it is gradually influencing the market in terms of year-end-progress, accuracy, and productivity.
The accounting sector of the United States is forecasted to have generated over $110 billion in the year 2020.
The accounting services industry in the US is anticipated to continue experiencing strong demand over the next five years 2021 to 2026

Market Size of the Accounting Industry in the US
The market size, measured by revenue, of the Accounting services industry is $119.5 billion in 2021 in the United States.
"The market will grow at a CAGR of 6 percent, during the forecast period of 2020 to 2024"
North America is seen at the forefront of the growth in the accounting industry.
Statistics Regarding the Accounting Personnel in the US
In the United States, there were 1.28 million accountants and auditors employed in 2019.
There were 1.51 million bookkeeping, accounting, and auditing clerks employed in the United States in the year 2019.
Top Accounting Firms
The accounting industry in the US are dominated by the leading four global accounting and auditing enterprises which are listed below:
Deloitte
PricewaterhouseCoopers (PwC)
Ernst and Young (EY)
KPMG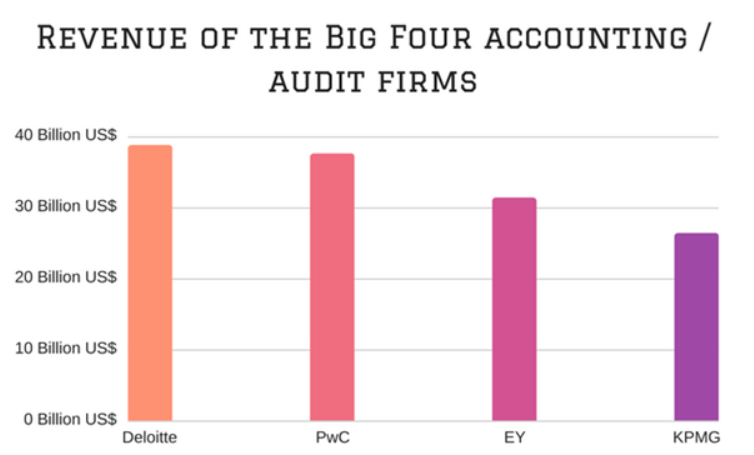 Image Source: www.cogneesol.com
The four firms reported an integrated revenue of over $157 billion in 2020, in which 56 billion dollars was generated from the market of the United States.
The below picture depicts the revenue of top 15 accounting firms in 2021, in the US.
Revenue of Top 15 Accounting Firms in the US in 2021 ($Billion)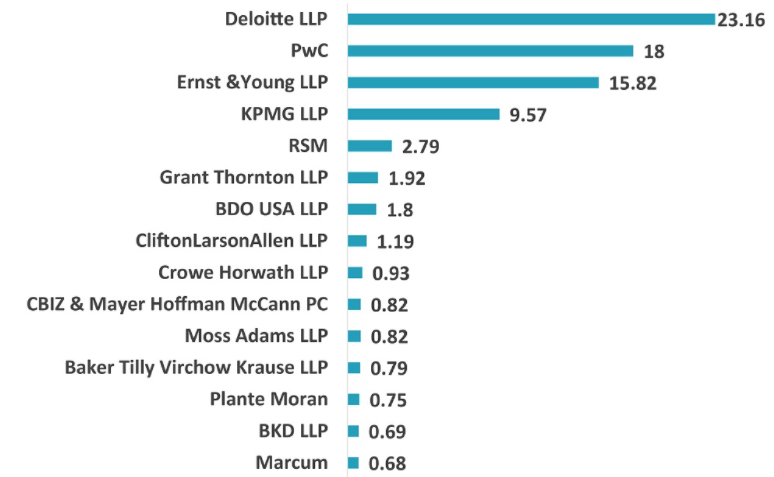 Image Source: innoviusresearch.com
Wrapping Up!
The scope of the online accounting software research and application is expanding, which will result in an in-depth integration and application of numerous technologies in the future market. This market commercialization succors in accelerating business digitalization of online accounting software, enhancing the industry chain structures, and improving the information use efficiency.