LinkedIn was launched in 2003 as a small professional networking site with merely twenty sign-ups in a day. With time, a lot of changes came into consideration and has now become one of the best social media platforms for content marketing among the 94 percent of B2B companies. Many companies are adopting the use of social media, precisely LinkedIn, to generate massive leads. We all are aware of the potential of social media platforms. However, many companies are failing to identify its benefits, thereby underutilizing opportunities. Let us discuss some of the fruitful ways through which you can use LinkedIn for B2B marketing success.
Design a Showcase Page:
Long time back, LinkedIn introduced the option for businesses to create their showcase page, which allows them to promote their businesses like an extension of their company website. Showcase pages are great for segmenting your market inbound LinkedIn traffic. Once you create a business page that connects you directly to your target audience, then you are fit to create a showcase page too. You can get started by click here, LinkedIn Showcase Pages. These are customized pages made for B2B industries to generate quality leads. It helps a brand spread awareness of the company name, recent product or service launches, any company initiative, and other aspects. A showcase page is a concept to bind a long-term relationship between the company and its clients. It approaches a segment-wise audience and offers information that is relevant and exciting for them. For your reference, this is Microsoft's showcase page image given below: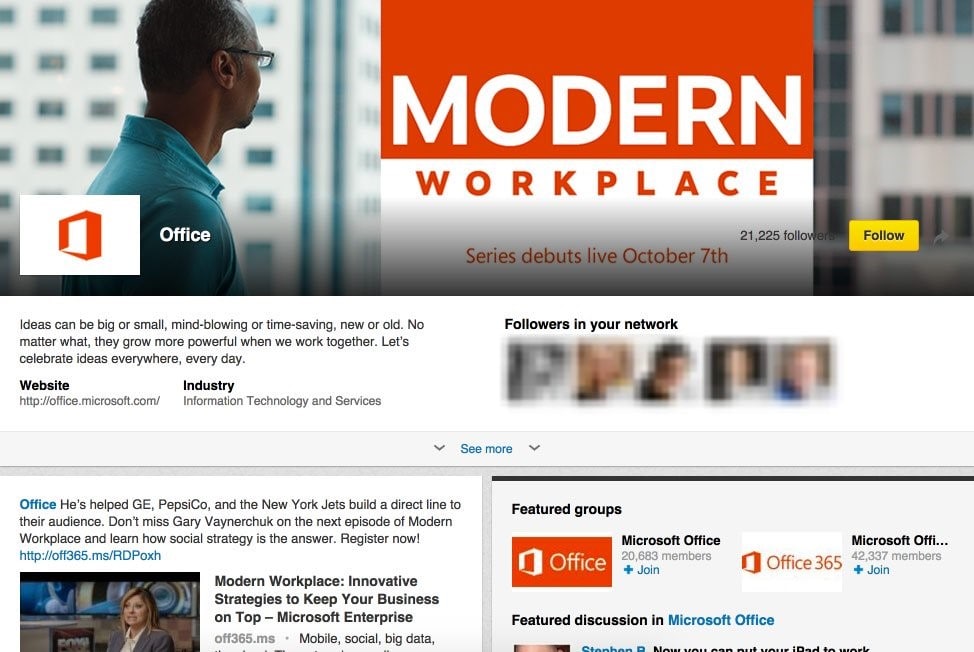 Cisco, too, has a showcase page, which is one of the most organized, developed, and well-thought Showcase Pages. It has about 11 different product and services showcase pages and has the largest number of followers. It is frequently updated for obvious reasons. The posts published on Cisco Showcase Pages are engaging and customer-centric. It is analyzed that all the showcase pages of Cisco have their footprint, which sets an example of brand recognition.
To make your Showcase page impactful, here are some useful tips:
– Keep it in an interactive tone
– Sync it with your official company page
– Make it conversion-oriented
– Use a crisp and easy to remember the name of your page
– Keep the content engaging and relatable
Showcase Pages are just another way of widening your opportunities to approach your audience. It is one of the innovative ways to communicate with prospects.
Adopt the Advanced Search:
This is extremely helpful for those companies that wish to find or search for their ideal prospects. LinkedIn has the option of an advanced search that allows you to identify your type of audience. Even if you do not have the LinkedIn membership, you can still filter out the options to narrow your advance search of prospects.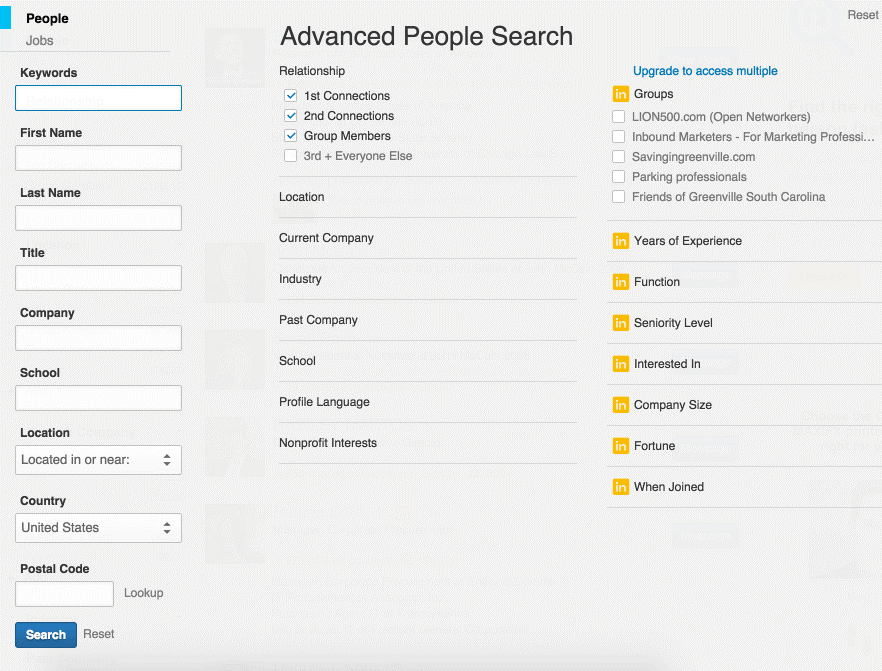 The most crucial element of Advanced People Search is the center column space where you can filter and refine your search options on the basis of location, present company name, industry type, past company name, profile language, interests or preferences, and more.
Advanced search is the only powerful technique that directly leads you to find your potential audience. It allows you to maximize your audience and connect with the audience on your own.
Use Search Groups:
Looking for prospects can get tricky for B2B marketers. To make it easy, search for groups becomes profitable as you can find many people of a similar interest in a single group. LinkedIn search group helps you look for groups, join them, and carry some activities to nurture leads. You can perform the search by only using relevant keywords. More than 660 million people are active on LinkedIn, making it a broad platform for you to target the prospects and maximize business.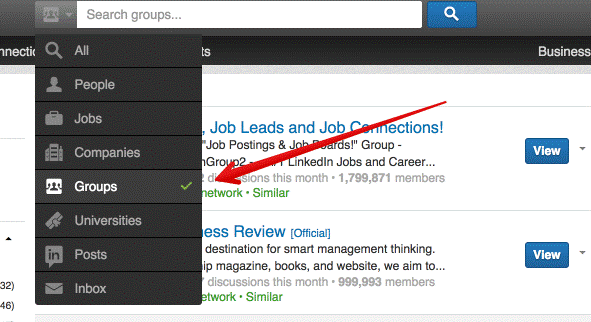 Group search helps you save time and productivity by narrowing down your search based on different categories. Look for groups with high relevance, active groups, and medium-size groups to enhance your market scope.
Post Unique Content:
LinkedIn is an excellent platform for B2B marketers as it enables them to post impactful content. It helps you to keep the audience engaged and informed. By sharing post consistently, you can not only engage with clients but also carry a brand message to the audience. You can share content that is on the same preference lines as the audience prefers so that they spend more time on your LinkedIn account. At times, some constant query occurs among the audience, and you can even address them through your LinkedIn official handle.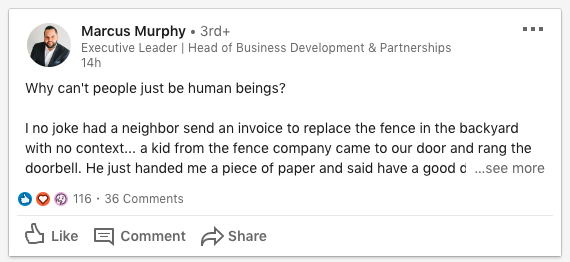 This is one illustration of how you can address the audience with any trending topics and draw their attention. Communication is the key to brand awareness, and LinkedIn provides you that efficiently.
Set up a posting schedule:
Last but not the least, it is vital to choose the right time to post the content on LinkedIn. While you run a social media campaign, you should check your content publishing timings and frequency. It is believed that for a B2B marketing campaign, you should post 3-4 status updated in a week and 1-2 long posts in a month to keep a consistent balance for networking with the audience.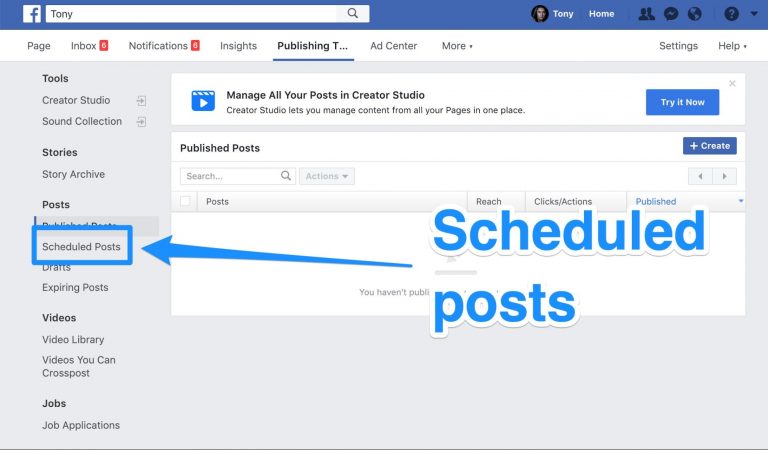 Timing plays a vital role as a lot depends on which time zone your audience belongs to. For LinkedIn, you can post on Tuesday, Wednesday, and Thursday between 5 to 6 pm EST. A creative marketing strategy needs the support of smart skills like these. You must ensure to consider timing as a prime trick to success.
Concluding Note:
For B2B marketing, LinkedIn has been a great platform and has supported many campaigns. Even the most established firms exist on LinkedIn, making it one of the prominent social media platforms for businesses and corporate professionals. To attain the best marketing experience for your B2B venture, these steps, as mentioned above, will be significant to opt for.