As healthcare organizations and private clinics work dedicatedly to provide healthcare services, they also need to maintain marketing gimmicks and patient relationships to win more client base. Email marketing is one of the constant support for many industries, and healthcare is one of them. Patients and medical firms appreciate the emails as it is formal yet well-communicative in approach. Healthcare marketing basically works on two pillars: getting new clients and retaining existing ones. To acquire new clients, healthcare firms massively rely on email marketing, online advertising, promotions, and social media. To retain the existing ones, they majorly depend on email marketing, offers, and follow-up services to enhance their client experience.
Email marketing is one of the finest digital forms of marketing for healthcare providers to grow long-lasting relationships with their patients. After the initial experience, email marketing enables the firms or hospitals to stay in contact until the clients need you again. Therefore, email marketing allows you to consistently communicate with your target audience without spending too much time from your packed schedule. Let us talk about the different ways through which we can use email marketing for the healthcare industry.
Different email marketing strategies for the healthcare industry
Well, there are multiple ways to use email marketing for healthcare industry benefits. Some of them are as follows:
#1. Be mobile-friendly in approach:
A mobile-friendly campaign is usually more successful. The formula is straight, i.e., as most people access emails from phones more than laptops and other electronic modes, it is always considered better to opt for a mobile-friendly approach while strategizing an email marketing campaign. It is said so because:
– The content can be easily viewed
– Images can be conveniently placed
– Better scrolling down alternate
– Attractive designing based on mobile screens
– Touchpoint features added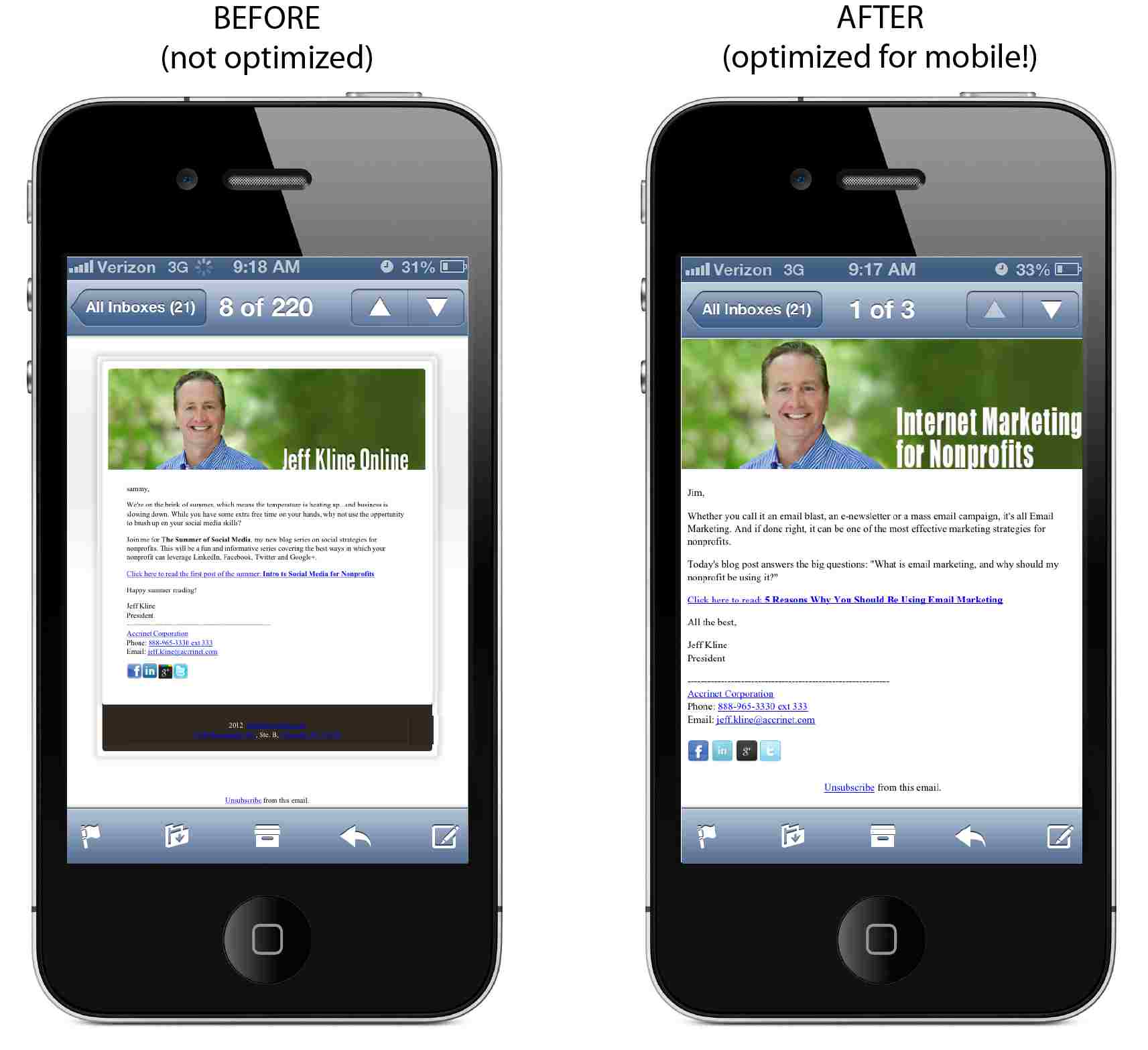 image source : accrisoft
Having said that, mobile-friendly email marketing campaigns help in maximizing open rate and click-through rates of emails. In the whole process, sales are improved, and better engagement is also witnessed.
#2. Think different and unique:
By this, we mean a quality healthcare email marketing strategy is not always based on an offer, sale, or other promotion methods. Informational content can be directly shared with your targeted audience and followed by sales without a "pitch point in reference." This content can be developed with the motive to demonstrate your company's ethics, vision, or basic approach towards healthcare.
This will nurture your professional credibility in the healthcare sector. There is always an option to promote sales; however, choosing a "non-pitch" approach to change things up is a good consideration. You can personalize messaging whenever needed to reinforce audience engagement.
#3. Always choose segmentation :
As a healthcare marketer, you must always choose to slice and dice your email marketing database to define particularly targeted healthcare audiences. This will offer prime opportunities to fine-tune the targeted audience, focus on high-quality content, and spike engagement. You can segment your customer database to devise new engagement opportunities for the future.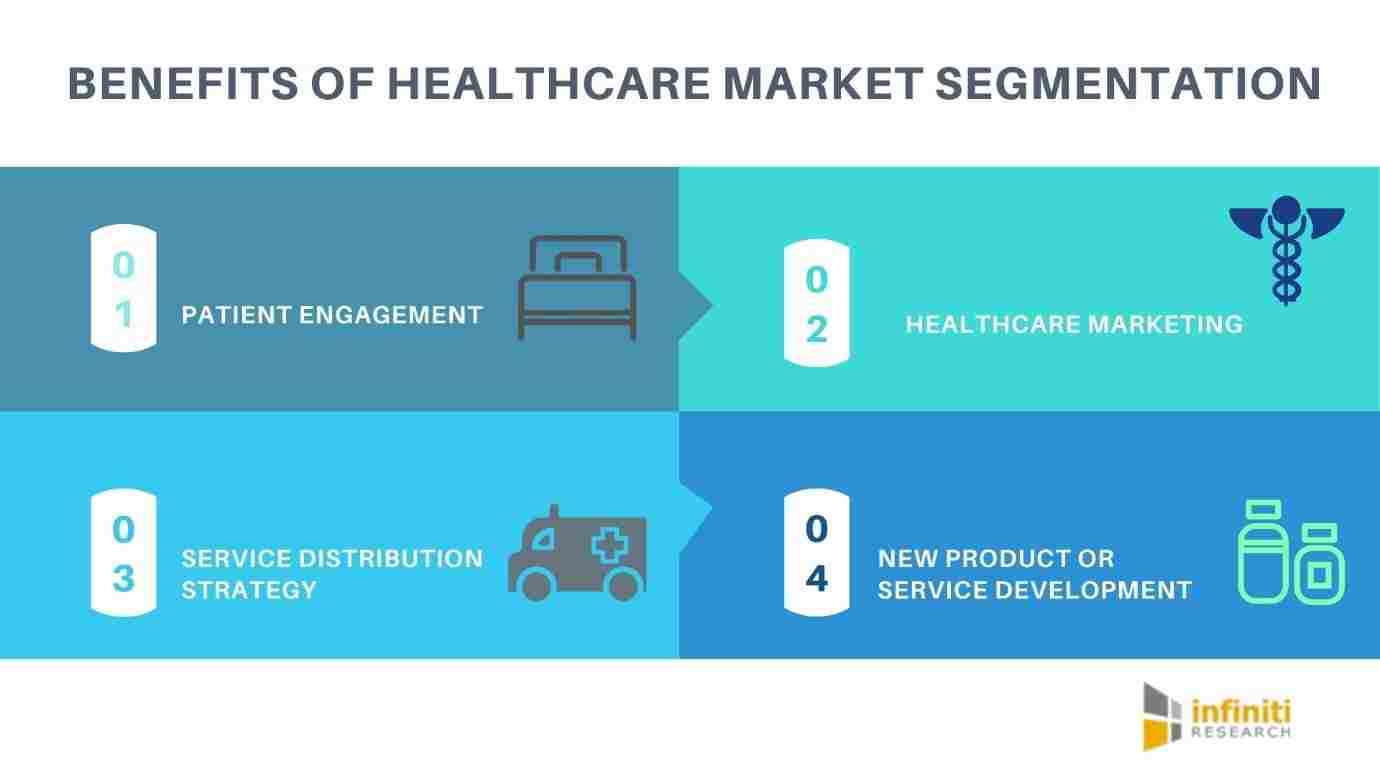 image source : businesswire
By defining the subgroups, you can connect with new audience members or the ones with which you were not successful in earlier attempts. By sending some emails and you can be rewarded with improved sales results and ROI on the basis of efficient persona profile development and optimized database.
#4. Opt for email automation:
Keep a check on the tools and techniques you are using to create an email campaign. Too much similarity of routine or email marketing tools may lead you to overlook better methods or platform technology to use. This may lead to ignorance of the voice of the requirements of your ideal customers, followed by an ineffective campaign. Based on reports, bout 75 percent of patients look for better communication with healthcare providers during appointments. About 88 percent of them choose automated communications.
There are many technology platforms and tool options available to be used for email marketing campaigns. By opting for new technical features, you can execute a seamless healthcare email marketing campaign than your competitors. The changes in the method will lead to significant operational uplifting as well as sales and ROI improvements.
#5. Stay relevant to your industry :
The healthcare industry is constantly experiencing a change in trend. You can develop the content particularly relevant to your healthcare audience. It must be well-aligned with the current trends, events, new developments, and your products or services. It would be great if you use the strategies related to your industry to build connections between the industry, the customers, and your healthcare venture.
This will automatically help in placing solutions for your clients in times of need. There are topics that may be relevant and latest to the healthcare sector, such as Medicare, CFO, telemedicine, telehealth, and more. The ones interested will narrow down your list by taking an interest and triggering engagement.
Concluding Note:
Email marketing is one suitable option for the healthcare industry as it is relatively cost-effective, seamless, and responsive. The audience is also appreciative and open to receive emails. Also, the rate of return and sales can be exceptionally high. By keeping these points in mind, you can have an extra edge over your competitors and make massive profits too.