The hospitality industry is a highly-competitive sector. Due to this, there is constant pressure to stand out and strategize effective marketing campaigns, which is absolutely imperative for the success of a hospitality venture. However, like any other business, there is a marketing budget involved and a lot of brainstorming to make a business successful by a far margin. Here comes email marketing, which takes care of sales, customer engagement, and, most importantly, it is budget-friendly.
Even the businesses that are new in the industry can set up an email marketing campaign to make the most out of it. Email marketing retrieves the returns of $38 for every $1 invested in marketing. This makes it one of the greatest choices if you wish to earn maximum ROI.
Of course, nothing comes for free or easy. A lot of strategizing, planning, prediction, monitoring, and execution takes place in order to outshine the final results. Let's understand in-depth about how the hospitality industry can use email marketing to reach a maximum audience.
Tips for the Hospitality Industry to Reach Audience with Email Marketing Campaign
#1. Start by building your email list:
The first and foremost essential thing you have to do is to strategize your travel agency email marketing campaign and build an email list. Many marketers aim to collect the visitor's email address; however, they often fail to convince them to subscribe with poor execution. Therefore you must make sure that you sell a good enough reason to the audience in order to make them subscribe and build your email list. For instance, you can offer them a flat discount as an easy way to win subscriptions. This way, you can build a robust email list with keen contacts.
#2. Develop responsive emails:
Generally, people use their smartphones to communicate with travel companies and check emails for reservations. This implies that your site needs to be properly optimized for smaller smartphone screens as well as desktops. For email marketing campaigns, too, it will come to use. Industry standards such as responsive design, AMP (accelerated mobile pages), click to call (CTC), and other elements need to be put to use. Designing plays a major role in making email (mobile) campaigns work. You have to stay very mindful and peculiar about all the small details. Like:
• You must keep the navigation menu to be easy to use,
• The text or content on the mobile screen should be large enough to read,
• The content must be properly formatted,
• The loading speed to be fast,
• And call-to-actions must be large enough to be noticed and clicked.
In case you wish to know who are your ideal clients and what their preferences are. If you are working with older or younger people, you will want to make sure text is large, easy to read, and, most importantly, relatable. The pattern should be attractive to all ages, and the instructions should be very clear as they talk to the audience like a real-life person.
#3. Give your subscribers a nice welcome
A welcome email is great to begin your relationship with a customer. It is an ice-breaker and powerful attempt to build a bond for the success of your marketing campaign. A welcome email has a 320 percent improved revenue compared to promotional emails and a 61.9 percent better open rate compared to the average rate. Therefore, sending a warm welcome email to the newcomers is a great idea to enhance the success rate of your email marketing campaign. You can also explain what your company does, share your vision, and represent your most popular services.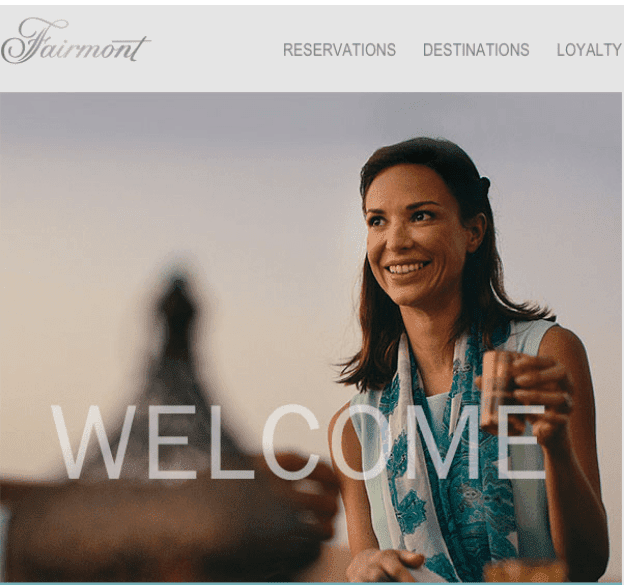 image source : campaignmonitor
While looking for ideas to design your welcome email, make a list of the most frequently asked questions by visitors and select some that can be answered in your very set of emails.
#4. Celebrate success with your subscribers:
About 73 percent of hotel guests appreciate all sorts of loyalty programs with frequent rewards. Apart from Christmas, New Year, Anniversary, and Birthdays, each day could become a special occasion to reward your subscribers with something special. By celebrating success with your audience, you make them feel more personal and build an unsaid loyalty for the brand.
#5. Build trust with customer ratings :
In times of today, customer reviews play a great role as site visitors or prospects rely more on client recommendations.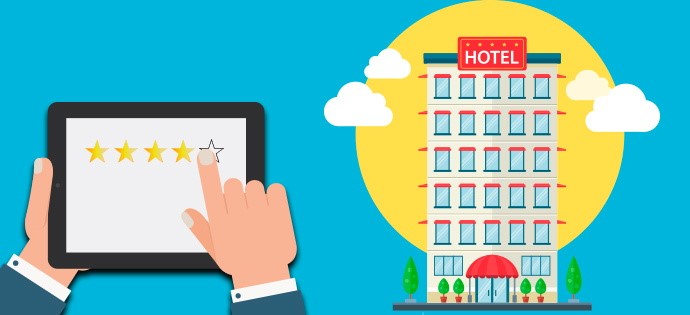 image source : hotelnewsresource
In the case of the hospitality industry or we precisely hotels, these reviews and ratings play a huge role. Therefore, try to collect these ratings and reviews through emails as to build a better network for your venture. As per survey reports, it is believed that 80 percent of client reviews only originate when companies send a follow-up email asking clients to drop their reviews or feedback after making the purchase. Thereby, it is best suited if you use these reviews and improve your hotel visibility on third-party websites.
#6. Track your email marketing campaign
The last and certainly very important way is to keep track of your email marketing campaign and check the metrics, i.e., the email open rate and click-through rates. As per the data available on the travel and hospitality industry, the average open rate for an email is about 30.95 percent, along with a click-through rate of 7.85 percent. These numbers set a benchmark for you to track your performance and set your goals right.
Concluding Note:
Email marketing is a great way to accelerate your hotel marketing. Emails will boost brand awareness, customer engagement, and will also improve sales. Acquiring a new customer is time taking; however, with the right set of skills at hand, it is not as difficult as we suppose it to be. By using these hacks, you are sure to witness a better and seamless email marketing campaign in the future