Well, as we have entered 2021, we are holding high hopes from the business industry. Last year COVID-19 pandemic had cross miles and spread globally, which affected not only human health or lives but also the regular working of our world. The business sphere too shifted upside down only to get worse day by day. The pandemic changed the definition of normalcy.
Very soon, we became more dependent on social media and the internet than we were. However, as the New Year has come, we are looking forward to businesses to get normal and even pace better to equalize the losses incurred last year. Companies have chosen to work remotely and bring out the magic of digitalization.
As we may say, this is the new normal, and in 2021, we are certain of some amazing digital marketing trends that will set in to engage and generate traffic.
Let us sneak into the global marketing trends that will prove their worth in 2021!
#1.Improved Interaction of Availability
As per McKinsey, the prime reason why customers switch brands is due to the availability of products and services right now. This can turn out to be one major challenge out of many for B2B marketers. The only alternative to resolve the issue is by increasing the inventory in-hand availability of products, so buyers do not have to wait for their orders. Too much delay causes irritation, which hinders the growth of the company.
As we are working from home, it is clear that providing services at all times can be the worst challenge. It is essential, to be honest to your clients and tell them if the stock is present at disposal or not. For bulk or high-volume orders, consider setting the right expectations as to when the stock will be in hand or when it will be delivered.
Share the real status of availability with your clients, so they are mentally prepared and do not lose the proactive interest they take in your brand. You can notify the availability of products or services through emails, messages, or phone calls.
#2. The Vast Significance of Voice Search
Voice search is giving new meaning to the customer experience. Even though it is not a part of Google's algorithm, but it dominates the search results. Many businesses are aiming to adopt this technology as it keeps the venture on its toes and also gives a seamless client experience to the user.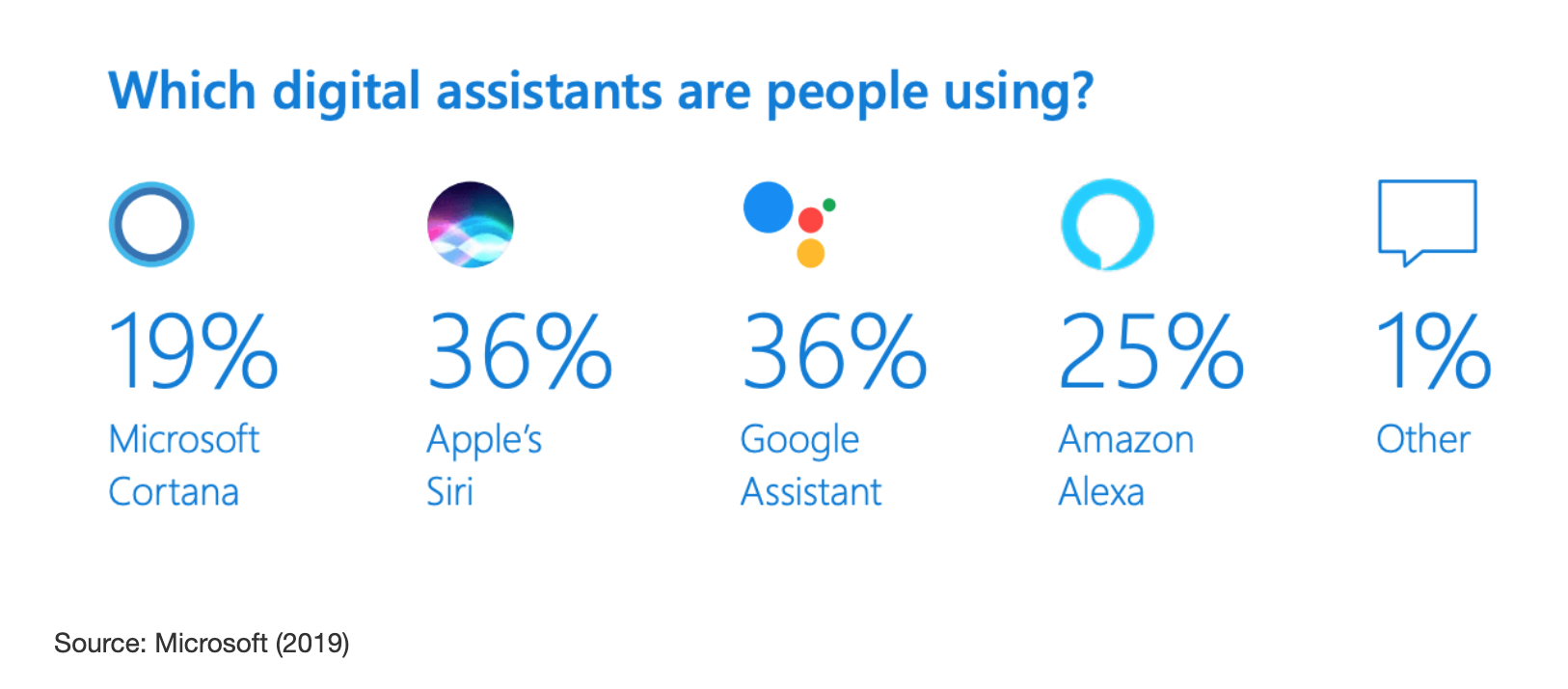 image source : serpstat
But why is voice search so prominent?
It is convenient to use on mobile phones
It can be used on smart devices
User feels more free and comfortable to use it
The experience is weightless and smooth
As per the experts, the content should be well-optimized for voice commands and need to have a direct yet communicative tone so that it will sync well and give accurate answers to the queries. This trend can strengthen the roots of the company as it will help in staying relevant and be widely chosen due to its convenience.
#3. Need for Employee Engagement
When the COVID-19 pandemic prevailed worldwide, it was recognized by the trends of human resource industry that it would affect the employees and their productivity. Many companies were working remotely for the first time ever, and their experience was mixed of both, which is liberating as well as perplexed. There are multiple distractions while working from home, which is suffering from employee productivity.
This is one of the most intricate times for businesses, and it is extremely essential to keep the employees connected and motivated to work well and be in sync for better business results.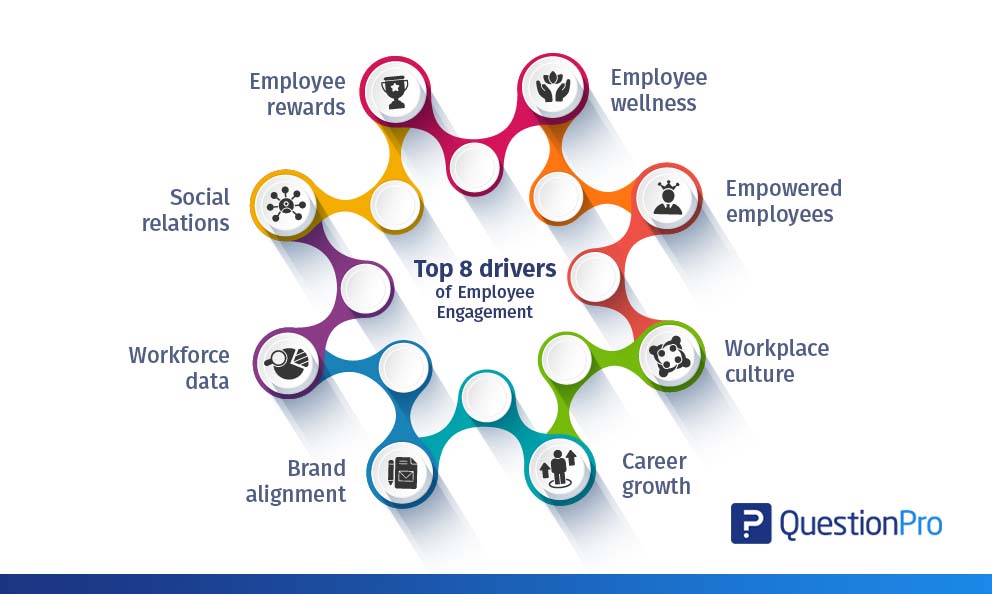 image source : questionpro
As an entrepreneur or human resource of your business, it is your job to make the team understand that work should be well-taken care of at all times, and all should work for one goal. With this approach, employees will feel more united and engaged than ever. Another aspect is to break the project into small pieces to ensure even the smallest milestone is faced well. As the mission will succeed, you will notice better communication within the team and the high engagement of employees at work.
#4. Customer Care is the Sole Mission
Businesses care a lot more for customer care and customer experience than it used to earlier. This attitude has given hope to people where who expect businesses to solve all sorts of issues.
As per the Edelman Trust Barometer, about 34,000 people were surveyed from 28 different countries. These people claimed they consider businesses as the most influential factor to solve issues at a global level. Not only this, they even consider businesses to be more equipped in solving global issues than NGOs and public (government) firms.
Businesses that are actually volunteering for social missions have the upper hand in building their brand image; as per Deloitte, about 79 percent of people who responded are able to recall the scenarios where brands positively responded to them during COVID-19 to assist customers, teams, and business communities.
In such times, clients are noticing more such brands that are taking initiatives to help employees, consider their well-being important, and donate to the needy community, and more.
image source : slideshare
One exemplary example is Unilever, which produces a product called Dove. Now Dove has surprisingly contributed to the world as its product has helped more than 35 million young people at the global level by imparting education since the year 2005.
#5. Clients are willing to Participate in the Brand Communication
B2B marketers must consider inviting the clients to be an active part of the brand discussions. This will improve brand engagement as well as give the brand a recognized space in the market.
About 56 percent of customers have engaged in at least one brand activity in the last one year, as per Deloitte. A company can develop these activities where clients are invited to share their opinion and review their social media campaigns.
How can you engage clients in brand communication?
By actively participating in live or online conversations
Giving feedbacks and online reviews
Giving advice about the purchased product
Sharing, liking, and frequently commenting on the brands social media handle
The major reason why these bunch of clients will voluntarily participate is that the pleasure of helping others is surreal. Customer feedbacks are such a necessity. Therefore, these clients will actively provide that too.
#6. Improved Customer Retention Plans
We all know this; it takes fewer funds to retain an existing customer than to earn a new one. Therefore marketing experts claim and suggest the growing importance of holding onto the existing client base.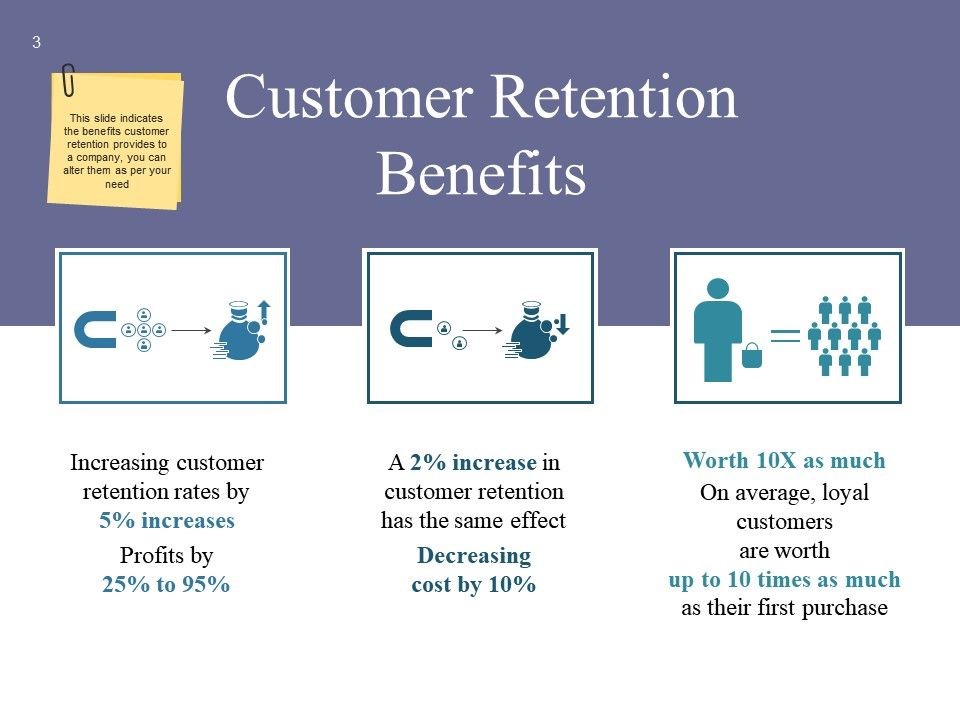 image source : slideteam
Concluding Note:
As these marketing trends are going to represent the year 2021, it is essential to improve your chances too to make the whole year effective and customer-centric in approach. These key trends will act great in increasing the site traffic, improve leads, increase sales, and at the same make an overall landscape more competitive.