eSalesData's world class email append process is always giving best quality to clients email appending projects.The process is an online customer acquisition and retention service that helps you convert US, Canada, European and International offline customers to online customers. The process appends email addresses, the most valuable piece of online customer information available, to customer records in your offline database. Combined with name and postal address, our international Email Append services provides you the most cost effective solution for connecting with your customers, online via email append.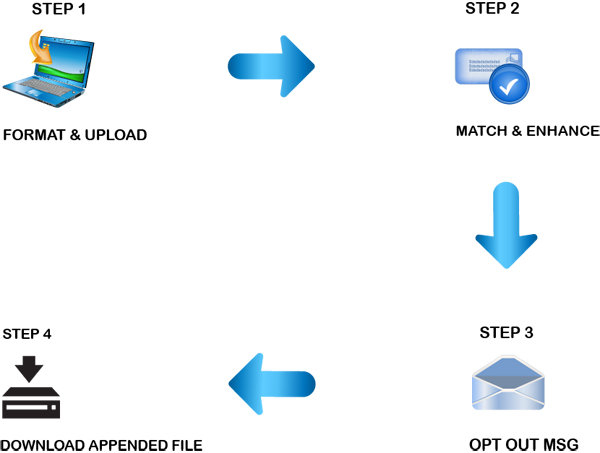 At eSalesData we are constantly trying to improve our clients' capacity to market their products. And our email appending process does just that! For years, we've helped our businesses and marketers enhance incomplete databases by filling in important information like postal addresses, phone numbers, zip codes and much more!.
The data specialists at eSalesData put all appended databases through 6 individual stages of data testing to ensure that you get maximum quality and perfect matches. To help you gain a better understanding of what appending is, we've broken the process down into four simple steps.
Step 1 – Format And Upload
The client converts his data into the CSV file format in preparation for the appending process. The data is then uploaded onto the eSalesData sever via FTP, after which it is picked up for processing by a data technician.
Step 2 – Match And Enhance
As soon as the client's data has been completely formatted and uploaded on to our systems, it is matched against a master database of 280 million records. When a name and address record is successfully matched to an email address, the data is immediately appended to the client's file.
Step 3 – The Opt-Out Message
This step features an automated opt-out message that is sent to the appended email address, indicating that our client wishes to communicate with the addressee via email. This email gives the recipient the opportunity to opt-out the client's mailing database if they choose and is done in the interests of creating a permission-based database. This step may also be performed by the client in lieu of eSalesData.
Step 4 – Dowload The Appended File!
Once the appending process has been successfully completed, the file is ready to be downloaded by the client. We also offer to send the client the appended file via FTP or any other available media.