Social media marketing has become one of the top channels for communicating with a B2B customer.
With internet penetrating fast in different parts of the world, there has also been huge increase in social media users. As per a research report, the number of worldwide internet users is 4.388 billion, and active social media users are 3.484 billion in 2019.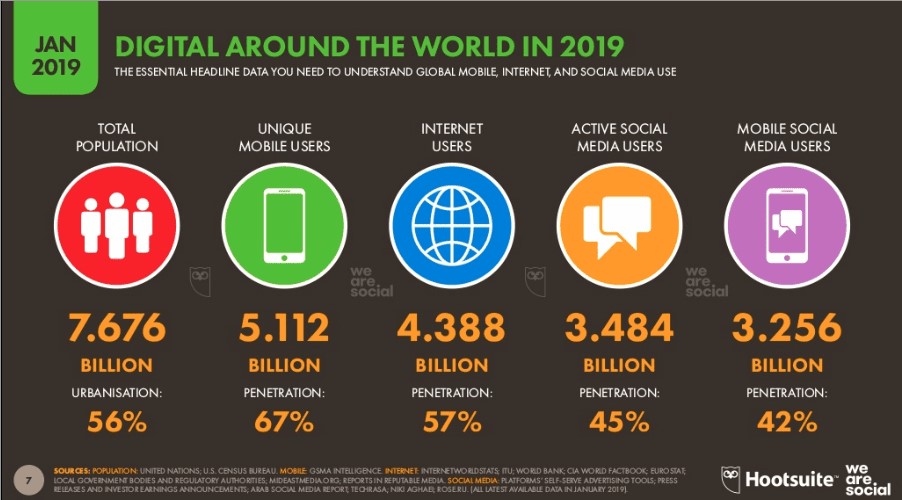 image-credits : Smartinsights
When compared to different regions and countries, the North, West, and South Europe along with North America, have witnessed the largest internet penetration, with around 88%-95% internet users as compared to the total population.
Social Media Penetration
The United States of America ranked 24th in the average social media usage time across the world, with around two hours and one minute every day.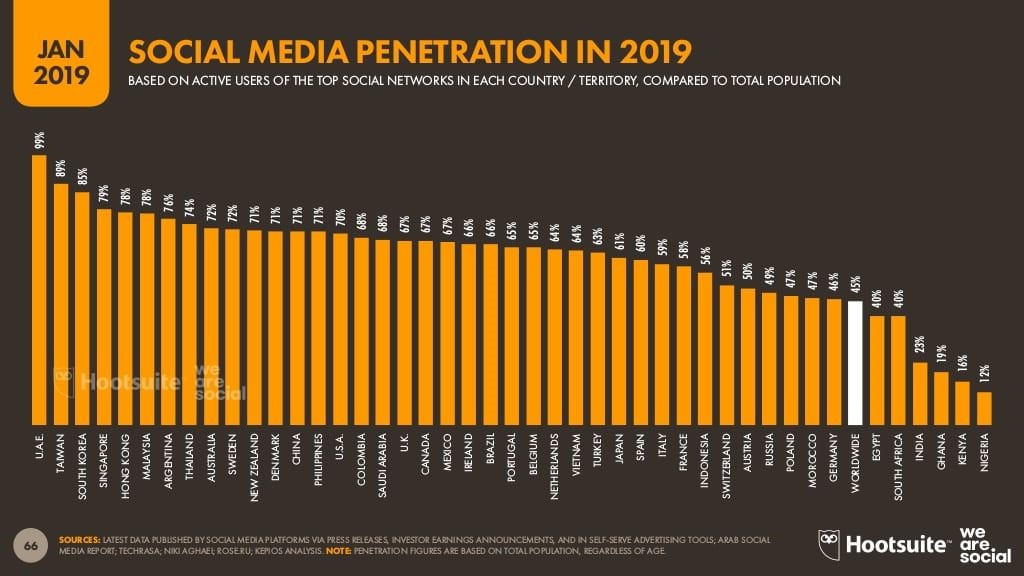 image-credits : digitalmarketinginstitute
Popular Social media channels
Facebook is considered as one of the top channels as it provides the paid as well as the organic opportunities.
As per a recent survey, 60% of the respondents stated that they followed the business which they regularly buy services from on Facebook.
In countries like UK, it was found that Facebook remains the dominant social platform in the country.
Benefits of social media marketing:
Brand Awareness
:
A Forbes report stated, Facebook is the most visited website across the world, followed by YouTube and Google.
With Facebook pages of around 60 million businesses, brands can reach a million customers on this platform.
Posts on a brand's Facebook page is capable of reaching 10.7% more people than the current number of followers.
A platform popular among a larger section of the population is a sure-shot to improve brand awareness.
You can also leverage your marketing strategy with the right promotional content on the Facebook page. Developing a balanced content that is educational and interesting to read is the first-step to this approach. It should not be overtly promoting the services or products of your organization.
Boost the posts:
If you want to boost your post, then Facebook can also act as a great platform to reach a wider audience.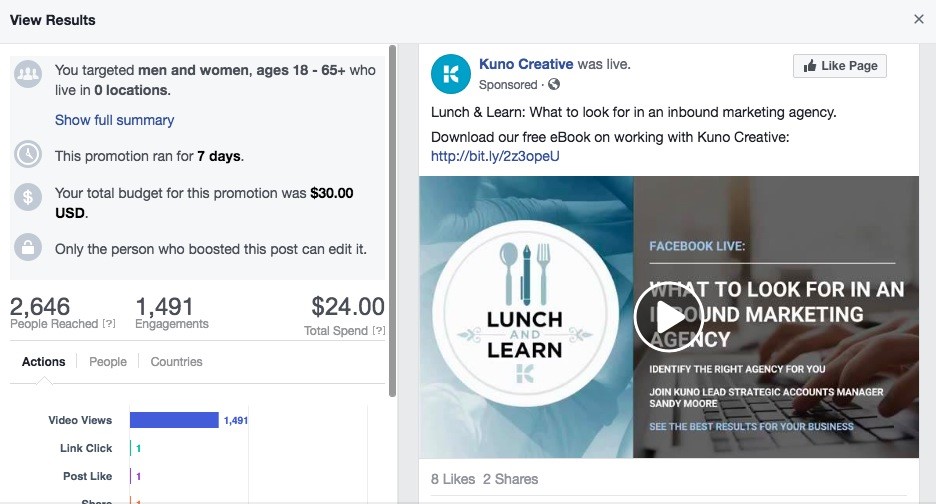 image-credits : kunocreative
The above example is of Kuno Creative, which is an inbound marketing agency as well as a HubSpot Partner for content marketing. It implemented a strategy where $30 was spent on promoting a video post "Lunch & Learn." It reached more than 2,626 people within a week while 1,500 people watched the video.
Generating leads:
Leads helps an organization to generate the required revenue, but generating the right number of leads and the right quality leads has been a huge headache for organizations. Social media marketing is one such strategy which gives broader exposure to a brand for generating maximum leads.
More than 50% of the marketers who have been using social media for over a year are known to be generating leads via different social media channels.
Brand loyalty
:
66% of the users between the 18-24 age group have been more loyal to the brand followed on social media.
Brand loyalty is a sense of belonging which a customer has for a brand. It indicates the level of attachment which a customer has for a brand, and whenever he needs the product, he goes for the same brand.
A Chicago based company even confirmed the brand loyalty factor via social media, it reported that 54% of the respondents believed that businesses which engage with clients on social media platforms like Facebook are more committed to providing quality service.
Marketplace insight
:
As a marketer, you would like to have the right insight for planning your social media strategy. A report stated that 68% of the marketers felt that social media provided them with the right market insight.
Right market insights facilitate in laying out a perfect marketing roadmap strategy.
Sales
:
Sales is the top priority for any organization. Without a good number of sales, it is difficult for any organization to survive. The sales process is comprised of different practices, and one of them is maintaining a good relationship with the customer. Social media platforms such as Facebook, Twitter, and others provide the right platform where marketers can interact with their potential customer regularly and understand their needs.
When you have a better understanding of your customer, then you can influence them at the right time and motivate them to purchase a specific product or service.
Conclusion
:
Social media marketing is a popular strategy being implemented by almost all the leading organizations. As users sign up on different social media platforms, marketers are also vying up on these platforms to connect with the right audience.
They can make a better connection with the users on these platforms, with one-to-one interaction. Promotion with a subtle approach without an overt sales pitch is the right exposure for becoming an instant hit with the audience.