A good amount of company time and resources go into generating and converting leads. In a survey on lead generation challenges, 11.7% of respondents considered costs as being one of their biggest lead generation challenges.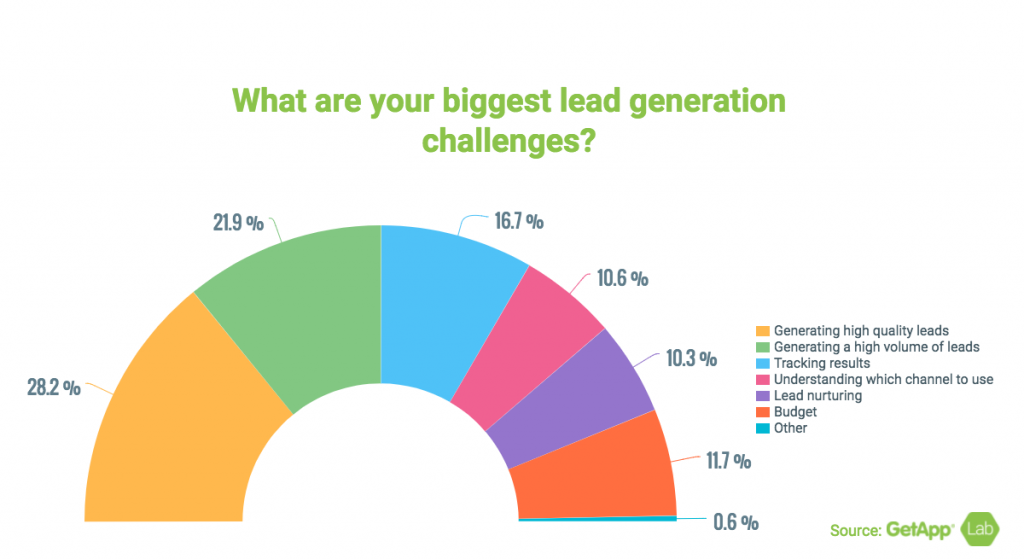 Image source:Getapp
The good news is that saving costs while attracting valuable leads to your business is not as difficult as it may sound.
Below are some trendy B2B lead generation strategies that can generate high-quality leads for your business while saving marketing dollars.
#1.Referral marketing
Referral marketing uses referrals or word-of-mouth to grow a business's customer base. It produces high-quality leads, as the below statistics confirm.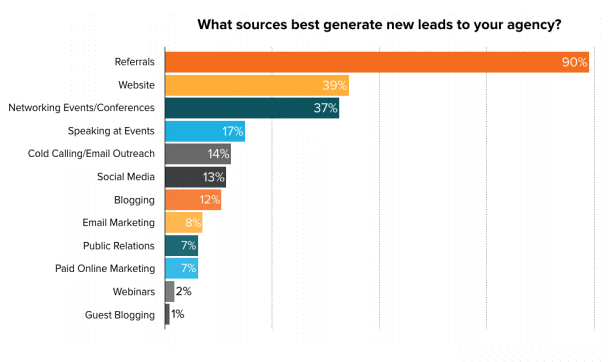 Image source:Hubspot.
In fact, in a survey, 84% of consumers said they trust recommendations from family and friends because of the trustworthiness factor. Therefore, the value of word-of-mouth marketing cannot be denied even in the age of digital marketing.
Here are some simple strategies to generate leads with word-of-mouth marketing:
Optimize every aspect of your business to improve the customer experience. For example, answer emails promptly, have a responsive helpdesk and deliver great customer service.
Ask your customers to leave a testimony, reviews on review sites, or recommend your service to their contacts. Doing so will greatly improve your local or online reputation, which is a must for referral marketing. Also, don't forget to display clients' testimonials prominently on your website.
Addressing negative reviews about your company is as important as positive reviews. When you respond to negative reviews, it shows your company's human side and gives your company a chance to turn dissatisfied buyers into happy buyers. Just be respectful, polite, and factual, and always be ready to accept your mistake whenever you are wrong.
#2.Business Networking
Business Networking is a very potent lead generation strategy. In fact, it tops the list of all the marketing strategies.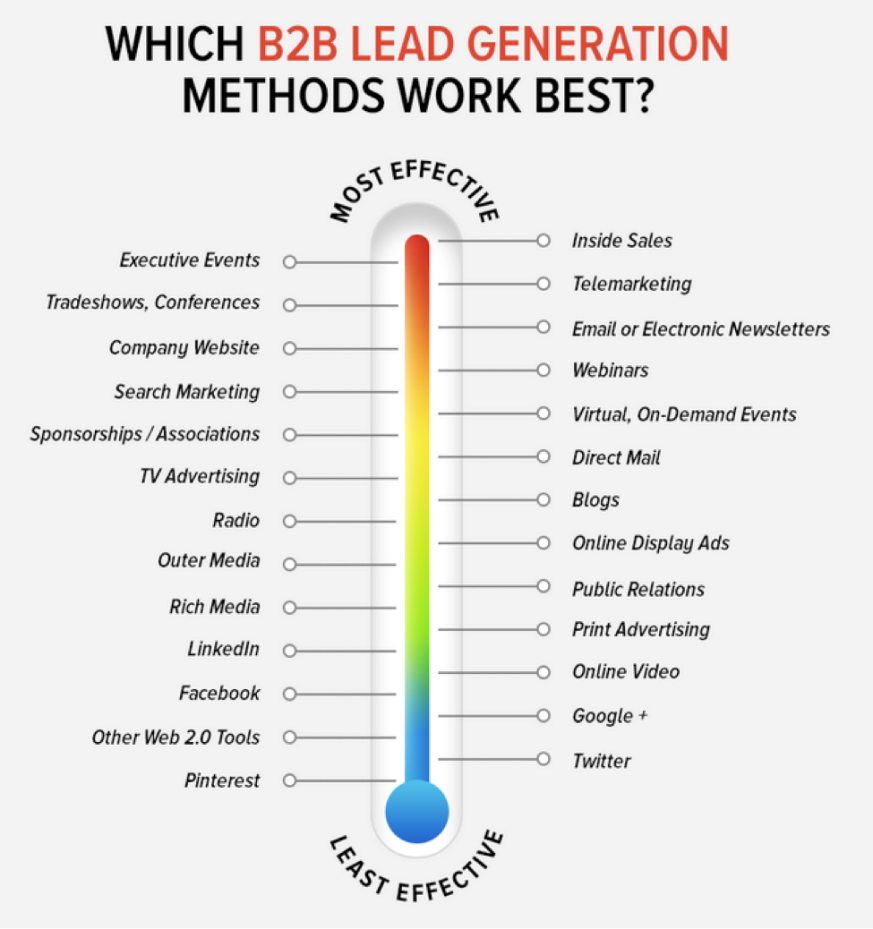 Image source:placester.com
More and more businesses today rely on online communication strategies, such as building b2b email marketing lists, social media promotion, but face-to-face communication can't be beaten.
Here's how to leverage face-to-face business networking for lead generation.
Join the Chamber of Commerce in your locality or any professional association to stay updated on upcoming business events and trade shows where you can meet prospects. You can even join online meetup sites, like meetup.com, to know about local meetups.
Look for conferences where you can be present as a speaker and establish yourself and your brand as an authority in the industry. Specifically, look for events where your target buyers are expected to be present. Speaking in front of a targeted group will help you gain access to many potential targeted sales leads for your business.
#3.Use your social media of choice
Social media platforms are great for promoting products or services, but B2B companies have not done much to harness its power for increasing their brand awareness.
Social media can do wonders for B2B lead generation; the key is to use it strategically. Here's how to do it correctly.
Start by posting on your preferred social media network, such as – LinkedIn, Twitter, Facebook, or other, at least three times a week. Link your posts to specific landing pages built to promote your company's offers.
Use Google Analytics to find out the posts that generate the most leads. Add an affordable lead generation form to those high-ranking posts to capture more leads. Consider including an enticing offer to get more people to join your B2B email list.
If you are using Facebook, you can add a simple call-to-action button at the top of your Facebook Page, which will allow your Facebook followers to visit your website directly.
#4.Reach Out With Email Marketing
With every marketing dollar being valuable for businesses, brands need to choose their marketing channels carefully to generate leads and produce good returns on investment. Using smart strategies, software, and a little bit of grit, you can use email campaigns to generate leads and deliver ROI while cutting costs.
Reports show that 82% of marketers spend 0-20 percent of their total marketing budget on email marketing. It helps marketers get targeted sales leads while spending a lot less compared to other marketing channels.
To reap the benefits of email marketing while saving costs, some factors need to be considered:
Quality of your email list: Take time to build a quality email list of active subscribers and clean up existing inactive subscribers. This will help you ensure that you don't spend your valuable resources on leads that have less chance of converting.
Your email design: If you plan on developing interactive elements or complex design, you can expect the cost to rise.
Outsourcing email marketing: Outsourcing to an agency could be a costly move, so it's better if you have the resources in-house. With the right platform, coding experience won't be required.
Frequency of emails: The number of emails you send can have an impact on the cost. For example, a monthly email newsletter will cost less than weekly emails.
#5.Post Video Content
Videos are quite effective in engaging your audience and increasing your brand's visibility. You can either create them in-house or outsource them to another company specializing in creating high-quality video content. Adding video to a landing page with an opt-in form is a good lead generation strategy.Videos allow you to build your brand authority and also capture leads.
Some types of video contents that you can post for lead generation:
Event Introduction videos: You'll post these videos before your prospects give you their email address and register for the event.
Thought leadership videos: It could be anything from how-to guides to in-depth talks about a specific topic. To make such videos, find out what your audience struggles with and what problems they want to solve.
Product videos: You'll use these videos to describe your products and services to your prospects and generate buzz around your products or services.
Don't forget to make your videos fun and exciting and add a clear CTA so that your audience may know where to go from your videos.
#6.Take the help of the local press.
Positive news reporting can really help boost your brand's visibility and your brand's image. You might offer to be interviewed or take part in a Q&A section of the show. Another great way is distributing press releases. It will keep people in your industry apprised of important updates from your company, and you'll get real exposure.
Conclusion
While several variables are out of your control when choosing your marketing strategies, the good news is that you can still focus on specific marketing strategies to keep the costs under control. By using the right strategy, you can rake in targeted sales leads and earn more business profits while keeping your marketing budget under control.