According to a recent survey of CEOs and senior executives conducted by Gartner, Inc., more CEOs forecast an economic boom (60 percent) than stagnation (40 percent) in 2021 and 2022. The majority of respondents (35 percent) anticipate that revenue will return to or exceed 2019 levels as early as this year. For more than half of those surveyed, growth is the primary emphasis. They see opportunity on the other side of the crisis, followed by technological change and corporate activity.
"A survey found that 66 percent of CEOs in India, opposed to 74 percent of CEOs, believe the pandemic has accelerated the digitalization of operations and the development of next-generation models."
All leaders will be working hard this year to decide what the post-pandemic world looks like and redeveloping mid-to-long-term corporate strategy accordingly. In the majority of circumstances, this will result in a slew of new structural adjustments to capability, location, products, and business models.
CEOs Prioritize "Digital"
Respondents gave their own words when asked about their firm's top five strategic business priorities for the next two years. CEOs ranked technology-related change as their second-highest priority. One in every five CEOs in this year's survey cited the simple term "digital" in their responses in the below figure.
When CEOs discuss their top business priorities, they frequently use the word "digital."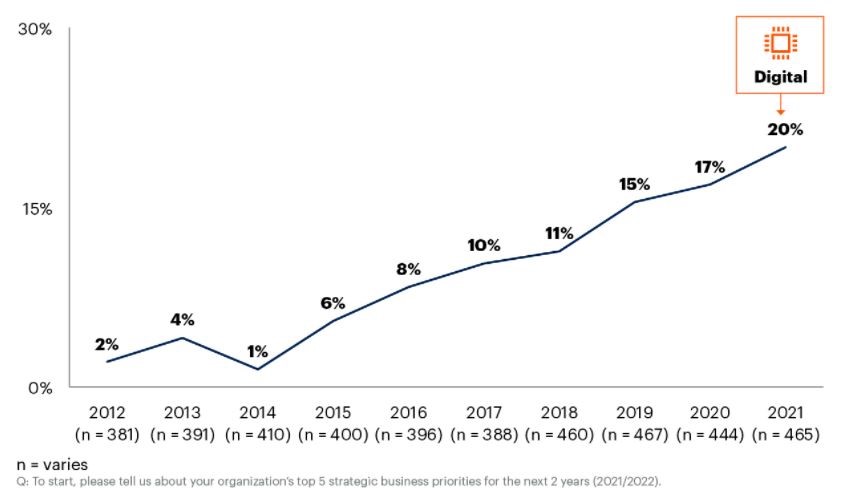 In addition, digital capabilities were the only sector in which CEOs planned to increase investment in 2021.
CEOs view Artificial Intelligence (AI) as the most industry-impactful technology when it comes to specific technologies. Over 30 percent of respondents stated that quantum computing would be highly pertinent to their long-term company objectives, although they are unsure how. Blockchain, 5G, AI, and quantum computing are at the forefront of a developing economic competition between the United States and China. One-third of CEOs believe that emerging trade disputes between the two countries over these technologies are a major area of concern for their businesses.
Anticipate a Wave of Mergers and Acquisitions (M&A)
M&As were the most stated item in CEOs' third strategic business priority, "corporate action," rising 75 percent year over year. This demonstrates that CEOs and senior executives looking to profit from a cyclical downturn seek inorganic structural growth.
Across different industries and business sizes, there was a significant decrease in mentions of "sales revenue" within the growth priority category and a substantial increase in observations of "new markets." This fact implies that CEOs find it difficult to achieve simple incremental sales revenue growth using the strategies that have represented them well in the past.
"Techquisitions can bolster digital business progress while also providing access to potential fast-growing market sectors," said Mark Raskino, distinguished research vice president at Gartner.
CEOs Acknowledge Societal Impacts on Business.
Over 80 percent of CEOs believe the pandemic will result in long-term societal behavior changes, such as a permanent shift to hybrid work. The most significant concern among CEOs will restrain that customer demand, and consumers and chief financial officers (CFOs) will pull back on related expenditures.
The demand for digital channel flexibility and increased usage of digital technology are also among the top three projected shifts in consumer behavior. According to Kristin Moyer, senior research vice president at Gartner, "continuing to improve the way customers are provided digitally will be critical."
CEOs Tips in Bolstering the Business
Hundreds of companies have been impacted as a result of the Covid-19 pandemic. Here are some recommendations from CEOs to help your business survive.
Increase Subscriber list for C-level Executives
Let's take a look at some methods that employers can use to improve and expand their subscription list.
Newsletters
Blogs
Portals
Podcasts
Motivational Speeches
Webinars
A targeted C-Level Executives Mailing List not only ensures that your campaigns are successful, but it also enables you to communicate effectively with your targeted prospects, who are CEOs of prominent firms across the world.
If you are a marketer who still uses the old single-channel communication approach to interact with top C-level executives, such as CEOs, CFOs, and CIOs. In that case, it's time to reconsider your strategy and consider the superiority of a multichannel communication approach. Hence, C-Level Executives Email List should be designed in such a way that it helps you in running multichannel marketing campaigns such as email marketing and telemarketing campaigns. This guarantees that your message reaches the right people at the right moment and that your campaign successfully increases your brand value.
Lead Magnet Strategies and Tactics
A lead magnet is a marketing tactic that entails offering an incentive to your website visitors in exchange for their contact information. Lead magnets entice visitors to share their contact information for a free digital asset. You will be able to collect more data about your audience while also increasing their interest. A lead magnet can exist in a variety of forms:
EBooks are typically lengthier than website blogs and are structured to read like a physical book. EBooks have become a popular reading choice for many readers of different backgrounds around the globe due to their ease of use and advantages.
A resource library is a categorized collection of information that can include eBooks, infographics, whitepapers, films, and any other information relevant to a specific subject, allowing you to get as much knowledge as possible in one place.
A few examples of content upgrades are:
Case studies
PDF Guide.
Video or Audio content
Email Course
Recipes
Workbook
Checklists
Resource Library.
How-to guides
Mini eBooks
Checklists are one of the most effective lead magnets because they are simple to develop, consume, and deliver immediate value to potential customers.
Editable cheat sheets or templates save your audience time by eliminating the need to start from scratch.
A whitepaper is an excellent resource to provide your website visitors. A whitepaper, which is frequently used in B2B marketing, is typically data-driven and targeted at executives and other corporate decision-makers. These publications are designed to supply them with relevant knowledge on a niche topic.
A tried-and-true template can generate many leads; not only are they functional, but they're also simple to create.
You can make templates for almost anything, including:
Emails
Administrative documents
Spreadsheets
Graphic design
Lead magnet assists businesses and organizations in the following ways:
Expand their subscriber list.
Generate leads.
Engage website visitors.
Grab contact data of website visitors.
Provide a free lead magnet in exchange for their contact information as a way to capture your visitors' attention on your website and convert them into leads. There are many different lead magnet tactics you can employ to convert website visitors into leads.
Project Management Tips for B2B Business
Have a Good Online Presence
Working hard to expand your online presence is no longer a desire but a necessity in today's digital environment. Today, 5 billion people own a mobile device, and at least two social media apps are installed on it, which they use throughout the day. Since everyone hangs out online these days, you should take advantage of this fact and go where your customers are.
Sixty-three percent of modern shopping begins online. People will read reviews and pages on social media to learn more about a product or company before engaging with them. This also assists them in forming an impression of the company's overall outlook, allowing them to determine whether or not to make a purchase.
To be successful in marketing your business, you must communicate the correct message to the right target group at the right moment. You will enhance your credibility and authority by having an official website and social media pages. Remember that email marketing is just as crucial for marketing as it is for maintaining your business.
When it comes to building the company's website, a lot of consideration must go into it. This is because it has the potential to make or break the company. According to research, while making larger purchases, such as those made by a B2B company, 89 percent of prospects will always look over the website before making a decision. Even though traffic does not guarantee conversions, you should constantly be prepared to convert such prospects into consumers.
Make sure to prime your website for SEO (Search Engine Optimization). For consumer satisfaction, it should be simple to navigate. It will also help if you attempt to interact with your customers on social media. Make it a practice to submit quality articles, pictures, and, most importantly, videos related to your niche daily.
The significance of reputation in any business cannot be underestimated. This is especially important in B2B sales because you're selling to hard-nosed business owners who scrutinize their ROI before handing over their cash. Consider establishing credibility a top priority so that your prospects will trust your brand. Your prospects will refer you to others if they have trust in you. Most importantly, they will remain loyal to you and purchase from you again.
Make sure you can exhibit your competence by presenting relevant facts and data that reflect your outstanding performance. When making presentations, be concrete and detailed to show that you have what it takes to make your business flourish.
You must obtain reliable data from your customers to continue providing experiences and services that others would value. Poor response rates and, in some cases, zero responses are the result of inaccurate data. Ensure that your consumers' information is accurate and up to date to maintain your brand's credibility.
Implement the Right Tools
Project management software has made a significant difference in how businesses operate. Take, for example, Google Drive or Dropbox. Every document your marketing team requires can be uploaded, shared, modified, and collaborated on in one central location. That's a massive benefit for B2B marketing teams because they can work on anything from a calendar to a spreadsheet to an interactive asset at any time.
The following are some of our favorite work-accelerating tools:
Google Drive: file sharing and collaboration.
Dropbox: design file sharing and proofing.
Slack: rapid communication that's organized by project, subject, or team.
Mavenlink: organizing projects, allocating tasks, and tracking efficiency.
Zoom: hosting team and client meetings.
LastPass: sharing access to practical tools.
Wrapping Up!
All stakeholder groups are considered in developing and aligning to the company's strategy and purpose by visionary CEOs. Employees and partners in the ecosystem have a more permanent relationship than shareholders and customers, who have a more temporary or transactional relationship. Like with any coalition, the goal is to make it as cohesive, broad, and long-lasting as possible. CEOs must grasp the changing influences on their sector and firm and adapt by making their operations more robust, agile, and digital as new expectations from employees, consumers, regulators, governments, the general public, and shareholders continue to emerge. Value visionary CEOs recognize that they will require the right board partners to implement this transition. Companies would likely need to actively refresh and adjust board member's skills profiles to deliver on their long-term value strategies. Overall, the demands on CEOs aren't going away; they're only going to get more intense. Businesses can mitigate problems and maximize opportunities in the digitally evolving world by anticipating such requirements and aligning business strategies accordingly.