[vc_row][vc_column][vc_column_text]Email marketing may work for different reasons, which the marketers may not be aware of. Some of the common reasons which help in the better performance of email marketing are:
Better timing:
Timing is what matters most while sending an email. As countries across the world have a different time zone, it becomes essential for marketers to customize and automate the email campaign as per that. Recipients should receive the mail at their business time so that it will be convenient for them to check out the mail.
Reduced expenses:
Email marketing reduces the marketing expense. In the case of telemarketing, where every prospect needs to be called to qualify them for making a sale, email marketing just needs communication with the prospect via email. You have to reach the customer at the right time to get better click-through and open rate.
Better personalization and segmentation:
Email marketing provides you with the flexibility for developing the email as per the individual customer. Better segmentation and personalization makes the email marketing process an effective and efficient one. Even the majority of the customers prefer receiving promotional content via email because of this factor.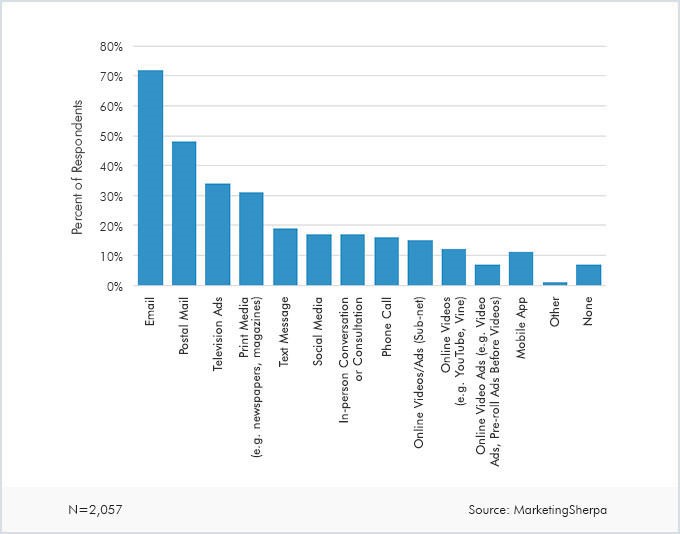 The above graph is a testimony of the previous statement, where one can observe that 72% of the respondents prefer receiving content through email.
Minimal effort:
Email marketing requires minimal effort when compared to a direct mail campaign. You need to have the email address of the recipient, their purchase behavior details, so that content can be developed as per that for sending. Direct mail requires designing, printing, cutting, organizing, and others, which is hectic for anybody.
Instant communication:
It makes instant and direct communication with the potential customer. Most of the customers check their email regularly at their convenient time, which makes this process a productive one. An instant communication means striking the right chord with the customer and providing all the necessary information in one go, for taking the next step.
Increased measurability:
You can measure the performance of your email marketing to a great extent. As most of the email marketing campaigns performance is checked based on its click-through rate, open rate, it becomes an easier task for marketers to know whether their email marketing campaign was able to connect with a wide audience or not.
Integration with other marketing channels:
This form of marketing can easily integrate with other marketing channels. Marketers can take email marketing, which has worked better previously and create social media posts with the help of this content.
Popular among mobile customers:
It also acts as the easiest medium to connect with the majority of the customers using mobile. As per a study, almost 34% of the subscribers will use mobile to read emails.
The average revenue which comes from mobile email is around $0.40 and is four times greater than the email click on the desktop.
Conclusion:
Email marketing has successfully beaten other forms of marketing. It works better due to the convenience which it provides to the sender with time management, better targeting, and prospecting. Marketers cannot afford to ignore email marketing in any case as, without this, the marketing strategy is incomplete. You tend to drive more revenue, ROI, sales, and profit with this marketing.[/vc_column_text][/vc_column][/vc_row]