The B2B industry is experiencing a change in dynamics, i.e., the quality of products and services, as well as the marketing gimmicks have become more evolved and improved. In the case of content development, or precisely blogging, the importance of quality has become more focal than any. For a decade or more, marketers have witnessed that engaging and informative content has always gained the most traffic.
Therefore, the blog section is paid extreme importance as to engage with clients in a better way. If you wish to make your blog more interesting and creative, then we have listed six unique ideas to make your readers make a fan of your blogs:
#1. Focus on Being Different than Your Rivals:
The first and foremost important method is to stay different and unique. Your competitors must also be pitching for themselves and maybe publishing blogs. Ensure that your content is not too monotonous and repeated as the user may not take an interest in reading similar blogs on different sites.
You should know well about your motive to post a blog, i.e., if you intend to be informative about some product or service, then limit yourself to make the reader educated about the same. In case you are looking forward to sharing a fun blog simply, then don't involve business tricks in the content as that may not work out well. Your educational blog should be well-researched and must carry the buyer's preferences in its content.
As Adele Revella said in the buyer's persona book, "How to Gain Insights into your Customer Expectations, Align your Marketing Strategies, & Win More Business":
"In the simplest terms, buyer personas are examples or archetypes of real buyer that let marketers to create strategies to promote products and services to the people who might buy them."
Therefore, it is essential to identify your buyer's persona and preference to generate their interest in your blog. About 77 percent of people on the internet tend to read blogs. This makes it very vital for you to stay unique and ahead of your competitors while crafting content.
#2. Promote Your Blog through Social Media:
Well, as Jay Baer says, "Content is fire and social media is its gasoline." Content must be well-written as well as well-promoted to increase its readability. Social media is a great platform to promote your blog as people may not have time to visit your website but will surely be active on social media at all times.
Social sharing is great to rank well and also makes it convenient for readers to share, promote, and like your blog. About 43 percent
of marketers got their ideal customers through LinkedIn, and 52 percent of them found through Facebook, according to Webdam.
#3. Acknowledge Your Audience through Blogs:
Readers thoroughly enjoy being acknowledged in the content. By writing blogs that are communicative in tone, you can make them feel involved. You can also ask for their views or opinions on certain topics or take their feedback on blogs or social media pages as this will increase their interest and make them look forward to your blog post in the future. The idea of writing blogs should not be limited to your advantage but should also offer value to your audience, so they enjoy the read.
#4. Design Your Blog Nicely:
Even the most informative blog will fall flat if your content is not well-designed. You should set it in a format that is easy to comprehend and read. B2B content is not that fancy; therefore, it requires a push of catchy design to obtain readers. To do so, you must keep somethings in mind:
Begin with a soft yet interesting introduction, don't come straight to the point
Use easy to comprehend words and sentences
Use images, videos, and GIFs to keep the blog engaging
Set a tone that resonates with your brand
Write some statistics or report to show a sign of accuracy
Keep your blog on a real level where the audience relates and not find it too fancy for the real world.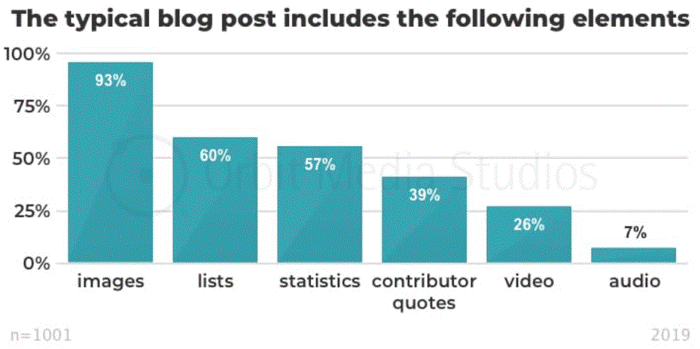 image source : smartinsights
#5. Don't Be Inconsistent:
Blogging needs to be practiced frequently enough to engage clients on a permanent level. If you post two blogs and suddenly vanish for two months, nobody will recognize you. As per reports, marketers that post blogs consistently experience twice as much engagement as emails. By consistently writing the blog section, you add value to your website and readers, of course. This will also benefit you in uplifting the brand value. Your competitors are too publishing content, so you have to make sure to be consistent enough to hook your readers well. In case you are fresh to blogging, you can begin with one blog per week to start building blogs and engage clients, but once you have established yourself, at least two or more blogs per week will work best for you. Therefore, being consistent is extremely vital for you to get more reader's attention.
#6. Dig out the Problem and Solution:
Lastly, focus on the problems your readers face. At times, your customers have a recurring issue, and they seek a quick understanding of it. In such cases, try to explain to them the solutions through blogs. This will not only get them a solution but will also channelize their attention to your multiple blogs, which they had not seen or read yet. Another benefit will be that it will add brand loyalty as you have identified their trouble and rescued them over a blog.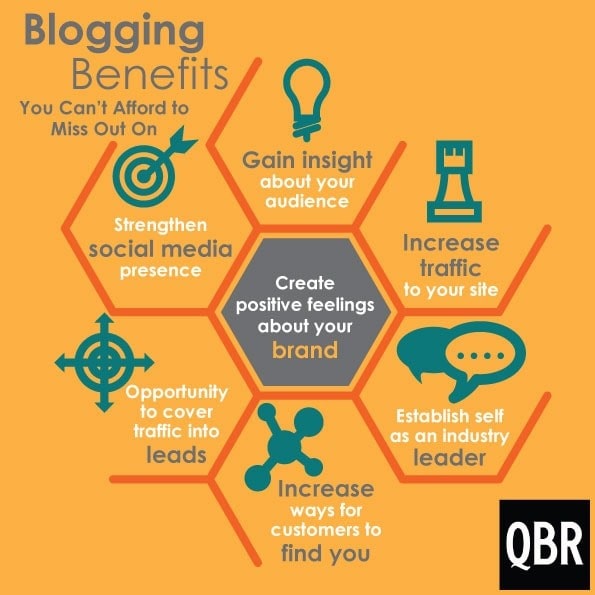 image credits : quickbusinessresolution
Concluding Note:
We hope these creative ideas will help you gauge attention and traffic to your blog section. With little innovation and patience, you can surely win more readers. Blogging is getting more attention nowadays due to the ease of reading content on mobile phones from anywhere. This has doubled the responsibility of brands to offer value to the readers. Keeping these ideas, you are sureling to make your blogging journey successful.